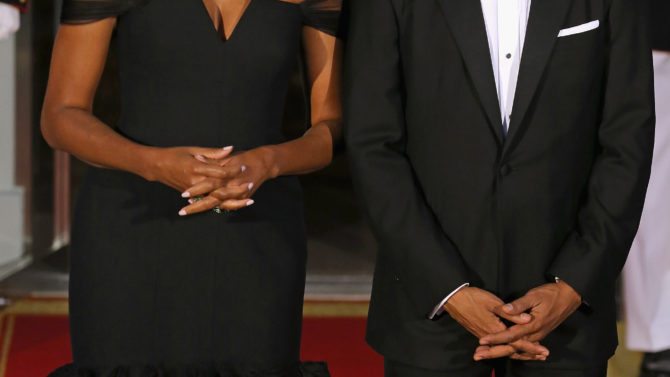 Michelle y Barack Obama le revelaron sus canciones y películas favoritas de 2015 a la revista People. En materia musical, el primer mandatario estadounidense reveló que no ha dejado de escuchar el tema de Kendrick Lamar "How Much A Dollar Cost". Por otro lado, la primera dama de Estados Unidos sigue bailando al ritmo de "Uptown Funk" de Bruno Mars.
En el renglón del séptimo arte Obama escoge a The Martian, protagonizada por Matt Damon y dirigida por Ridley Scott, como su película favorita. La cinta cuenta la historia de un astronauta que es abandonado accidentalmente en el espacio por sus compañeros. Michelle optó por escoger Inside Out de Disney/Pixar protagonizada por Amy Poehler, filme que explora la vida de los sentimientos de una jovencita.
El momento más inolvidable del año para el presidente de EE.UU., fue cuando viajó a Alaska junto a Bear Grylls para observar los efectos del cambio climático en esta zona en un episodio especial del programa Running Wild With Bear Grylls. "Aunque comí un salmón que fue mordido por un oso, me la pasé increíble. Los paisajes me dejaron sin aliento y también observé los efectos del cambio climático, algo que no pude ignorar cuando el hielo se derretía en mis manos", comentó.
Michelle dijo que sus momentos favoritos siempre son cuando intercambia ideas con jóvenes: "Pasé tiempo con un grupo de niñas en una escuela de Cambodia y una de ellas me leyó un poema que había escrito sobre la iniciativa 'Let Girls Learn'. Fue difícil contener las lágrimas".
El pasado 3 de diciembre los Obama encendieron el Árbol Nacional de Navidad en la Casa Blanca como parte de las fiestas decembrinas con la ayuda de Reese Witherspoon: