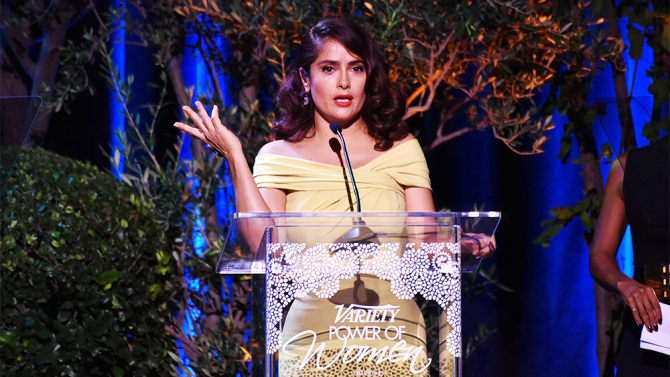 Salma Hayek fue honrada el 9 de octubre en el evento anual de Variety conocido como Power of Women, que se llevó a cabo en el Beverly Wilshire Four Seasons. "No nos pueden ignorar", dijo Hayek durante su apasionado discurso luego de ser reconocida por sus esfuerzos con Chime For Change. "Somos la generación que dijo, no nos vamos a ir a los 30 años de edad", sentenció la artista.
La actriz aprovechó el momento para recalcar el poder que tienen las mujeres y las injusticias que enfrentan todos los días: "Las mujeres representan 50% de la población y 66% de la fuerza de trabajo, pero solo ganamos el 10% del ingreso mundial (…) He sido una activista en pro de las mujeres por 20 años y puedo ver que las cosas están cambiando por primera vez en la industria", sentenció agregando que estas cifras eran tristes y bastantes trágicas.
La protagonista de Desperado también mencionó que esa es precisamente la razón por la cual las comedias románticas ya no están funcionando en Hollywood: "Hemos cambiado. Creo que esta es la parte más real de esa igualdad", acotó la mexicana entre aplausos.
Actualmente, la celebridad tiene toda su atención puesta en este momento en Chime For Change, fundación que recauda fondos para las mujeres y niñas alrededor del mundo para promover la educación, la salud y la justicia. "Estamos pasando por una de las mayores crisis de refugiados desde la segunda guerra mundial", agregó la actriz quien está lanzando una nueva iniciativa llamada Chime for the Children of Syria.