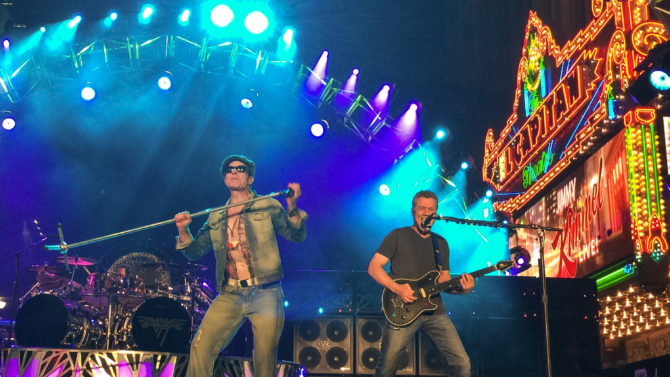 Todo el rock llegó a Hollywood con Van Halen tocando donde se realiza el programa de ABC "Jimmy Kimmel Live!"
La agrupación que tiene 45 años de vida, llegó a la televisión para su nuevo álbum "Tokyo Dome Live in Concert" y también para anunciar su gira de verano.
Y para conmemorar todo esto, los californianos tocaron clásicos como "Panama", "Running with the Devil," "Hot for Teacher," "Dance the Night Away" en un mini concierto frente a El Capitan Theatre en Hollywood con muchos turistas y fanáticos como público.
El vocalista de la agrupación que lucía un parche en la nariz producto de un golpe con el micrófono cuando rockeaba al ritmo de "Panama".
Pero ni la sangre de la nariz hizo que el cantante se apagara y le dijo a la multitud: "Hemos esperado 45 años por esto".
Esta es la primera aparición de la banda desde que se volviera a reunir en 2007 con David Lee Roth a la cabeza.
Los tickets del tour están a la venta desde el sábado y el resto del concierto se mostrará el martes 31 por las pantallas de ABC.