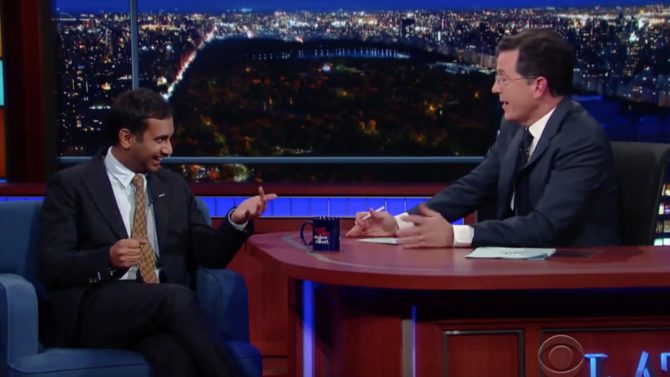 Aziz Ansari fue el invitado especial este martes 10 de noviembre en The Late Show con Stephen Colbert. El comediante aprovechó su aparición en el programa para promocionar su nueva serie de Netflix titulada Master of None, show que se enfoca en la falta de diversidad en Hollywood.
"Stephen es el primer anfitrión de un late show de South Carolina", bromeó el comediante, quien también proviene de ese estado. "Y el billonésimo hombre blanco", agregó en broma, señalando que no existe mucha diversidad en lo que se refiere a los anfitriones de los shows de televisión.
Colbert luego se burló de este tema, y dijo: "¿Tenerte en mi show cuenta?", a lo que Ansari respondió en broma que sí. "Este debe ser una gran época para CBS", agregó el artista.
En es nuevo show de Netflix actúan los propios padres del comediante. El padre de Ansari también estuvo de invitado en el show de Colbert, por lo que el actor escribió en Twitter antes de entrar al escenario: "Mi papá y yo haremos historia en la televisión, habrá más indios que gente blanca en CBS cuando estemos como invitados esta noche".
Recientemente el actor publicó una emotiva carta para agradecerles a sus padres por su aparición en la serie y para expresar lo mucho que significan para él.
Master of None está disponible en Netflix desde el pasado 6 de noviembre.
No te pierdas parte de la entrevista en The Late Show con Stephen Colbert a través del siguiente enlace: