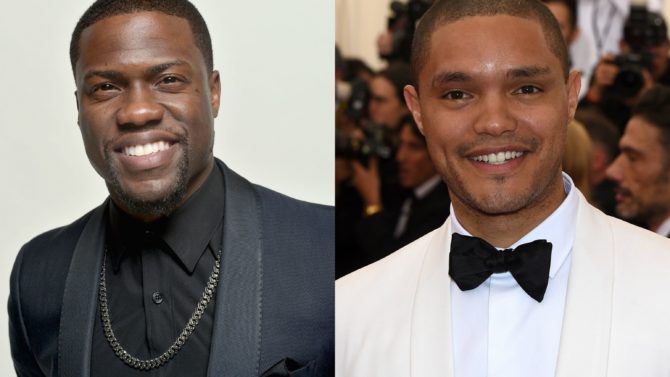 Falta poco tiempo para que comience la nueva temporada de The Daily Show, programa que ahora será conducido por Trevor Noah quien llega a reemplazar a Jon Stewart luego de estar a cargo del show por más de dieciséis años.
El show comienza el 28 de septiembre y ya anunció quién será el afortunado primer invitado: Kevin Hart, quien expresó a través de Twitter que estaba muy emocionado de participar en el programa.
Además del actor de Get Hard, también estará como invitada la co-creadora de Tinder, Whitney Wolfe, quien acompañará al nuevo host en el segundo capítulo del programa el martes 29. El candidato republicano Chris Christie estará de visita el día siguiente y Ryan Adams, por su parte, completa la lista de invitados haciendo presencia el 1ro. de octubre en este show.
Trevor Noah habló en una entrevista con Rolling Stone sobre cómo será este nuevo show: "El primer episodio será una re-introducción al programa… [Para que la gente diga] 'Yo sé de que se trata el show, ya sé lo que es'. Toma mucho más tiempo. Tú estás construyendo una relación. Entonces lo que vamos a hacer es dividir la primera semana en una miniserie de cuatro partes que establecerá el tono de lo que esperamos que sea el show", dijo Noah.
El animador también confesó en la entrevista que se la pasó trabajando todo el verano para prepararse como host, así que sin duda no defraudará.
No te pierdas The Daily Show with Trevor Noah el lunes 28 de septiembre a las 11p.m ET/PT por Comedy Central.