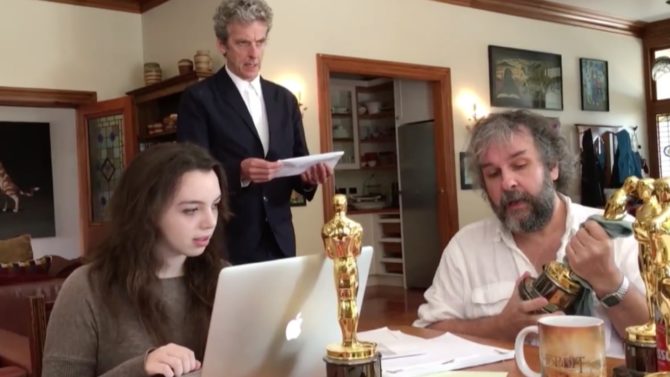 Peter Jackson publicó en Facebook un divertido video donde confirmó -de una forma bastante original- que dirigirá uno de los episodios de Doctor Who, la popular serie de BBC.

En el clip se puede ver al director de la franquicia de Lord of the Rings limpiando sus Oscar mientras habla con su hija Katie, quien le dice que tiene varios emails sin contestar de Steven Moffat, productor de la serie inglesa, donde lo invita a dirigir uno de los episodios de esta serie de ciencia ficción.
Sin embargo a Jackson parece no importarle la oferta. Lo más gracioso es que cuando están en medio de la conversación aparece de la nada Peter Capaldi, actor que encarna al famoso doctor en esta temporada.
Capaldi le entrega a Jackson un sobre donde le pide que firme unos documentos para que dirija el programa, sin embargo el realizador piensa que Peter es un maniático que entró a su casa. Es en ese momento cuando aparece un malvado Dalek, los mayores enemigos del protagonista de este show, quien persigue al actor antes que el director de King Kong pueda firmar el contrato.
No te pierdas el gracioso video a continuación: