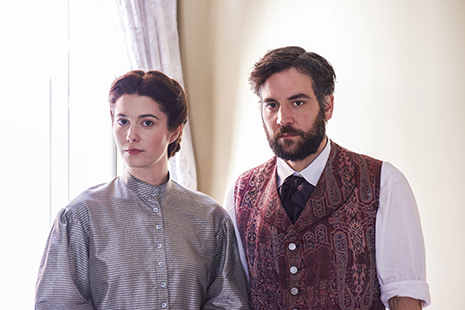 Si pensaban que no verían más en la televisión al protagonista de How I Met Your Mother, Josh Radnor están muy equivocados.
El actor que interpretaba en la serie al enamoradizo Ted en la serie, cambiará completamente de rumbo porque ahora  llega a la miniserie dirigida por Ridley Scott, Mercy Street.
Además del actor de 40 años, también protagoniza la serie Mary Elizabeth Winstead a quién vimos en películas como Final Destination, Death Proof, y más recientemente en la serie The Returned.
La serie de PBS, trata de dos enfermeros voluntarios que están en lado contrarios en la Guerra Civil. Por una parte, Winstead hace el papel de Mary Phinney, una abolicionista de New England y Radnor es Jedediah Foster, un cirujano que creció en un hogar privilegiado dueños de esclavos en el sur y que es hijo de un millonario terrateniente de Maryland.
La serie está basada en memorias reales de doctores y enfermeras voluntarias de Mansion House Hospital en Virginia.
"Es un honor poder contar las historias emocionantes de experiencias y luchas de verdad en la guerra", dijo Beth Hoppe, Jefa de programación y ejecutiva de PBS. "Sé que este elenco talentoso y diverso y equipo a ser capaz de traer Mercy Street a la vida en la pantalla. "
Además de estos actores veremos a Gary Cole, Peter Gerety and Norbert Leo Butz
Mercy Street llegará en el invierno de 2016 a las pantallas de PBS.