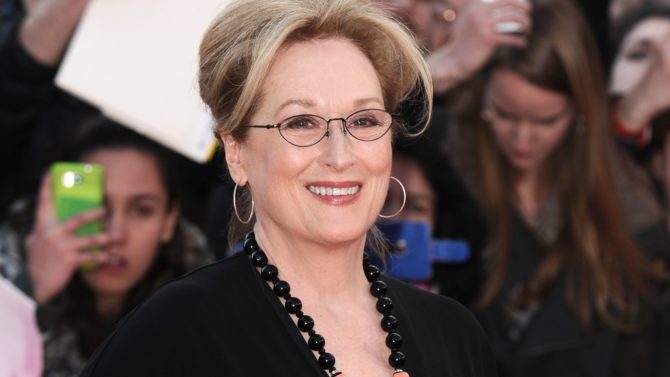 La galardonada actriz Meryl Streep  ha sido elegida para recibir el prestigioso premio Cecil B. DeMille en la entrega de los Golden Globes 2017, que se realizará el próximo 8 de enero.
El anuncio lo hizo la Asociación de la Prensa Extranjera de Hollywood (HFPA, por sus siglas en inglés) este jueves 3 de noviembre, que consideró que Streep es merecedora de dicho premio por sus "destacadas contribuciones al mundo del entretenimiento".
VER TAMBIÉN Nicole Kidman dice que 'Lion' es una carta de amor a sus hijos
"Ella es una pionera, habiendo allanado el camino para las mujeres en televisión, cine y escenario. Por romper las barreras de género y edad, todo con finura y gracia, el HFPA le otorga este honor", dijo el presidente de HFPA, Lorenzo Soria.
Streep, de 67 años, cuenta con varios récords en nominaciones de premios. En toda su carrera ha sido nominada para un Golden Globe 29 veces, y para un Oscar, 19, en los que ganó tres.
Lleva ganados ocho Golden Globe por sus papeles en The Iron Lady (2011), Julie & Julia (2009), The Devil Wears Prada (2006), Angels in America (2003), Adaptation (2002), Sophie's Choice (1982), The French Lieutenant's Woman (1981) y Kramer vs. Kramer (1979).
VER TAMBIÉN Meryl Streep: "Dentro de unos 20 días tendremos a Hillary Clinton como presidenta"
Streep también competirá el próximo año en la categoría Mejor actriz de comedia por su actuación en Florence Foster Jenkins, de Stephen Frears, de acuerdo con Variety.
La 74ta. entrega anual de los Golden Globes se realizará el domingo 8 de enero de 2017.