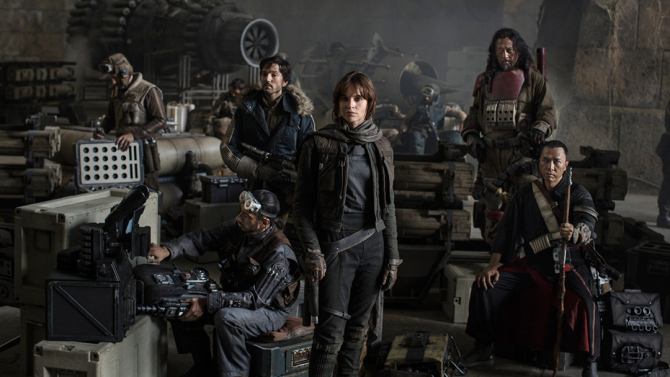 Rogue One: A Star Wars Story es la película más esperada de 2016 según una encuesta conducida por Fandango.
El servicio electrónico de venta de boletos le preguntó al público cuál estreno de este año los tenía más emocionados y en primer lugar se encuentra la cinta protagonizada por Felicity Jones y Diego Luna. El spin off de la franquicia de Star Wars explorará el asalto al Death Star organizado por un grupo de rebeldes.
La segunda producción más esperada del año es Finding Dory, la secuela de Finding Nemo. En esta nueva entrega Dory está decidida a encontrar a su familia, pero debido a su mala memoria, reunirse con ellos no será nada fácil.
A continuación puedes ver las 10 películas más anticipadas de 2016:
1 – Rogue One: A Star Wars Story (se estrena el 16 de diciembre)
2 – Finding Dory (se estrena el 17 de junio)
3 – Batman v Superman: Dawn of Justice (se estrena el 25 de marzo)
4 –  Bourne 5 (se estrena el 29 de julio)
5 – Captain America: Civil War (se estrena el 6 de mayo)
6 – Star Trek Beyond (se estrena el 22 de julio)
7 – Independence Day: Resurgence (se estrena el 24 de junio)
8 – X-Men: Apocalypse" (se estrena el 27 de mayo)
9 – Zoolander No. 2 (se estrena el 12 de febrero)
10 – The Jungle Book (se estrena el 15 de abril)
La encuesta también reveló las participaciones más esperadas por los cinéfilos:
Actrices:
1 – Melissa McCarthy (Ghostbusters)
2 – Scarlett Johansson (Captain America: Civil War)
3 – Jennifer Lawrence (X-Men: Apocalypse)
4 – Emily Blunt (The Girl on the Train)
5 – Charlize Theron (The Huntsman: Winter's War)
Actores:
1 – Matt Damon (Bourne 5)
2 – Will Smith (Suicide Squad)
3 – Ryan Reynolds (Deadpool)
4 – Ben Affleck (Batman v Superman: Dawn of Justice)
5 – George Clooney (Hail, Caesar!)
¿Cuál de estas películas quieres ver en el cine?