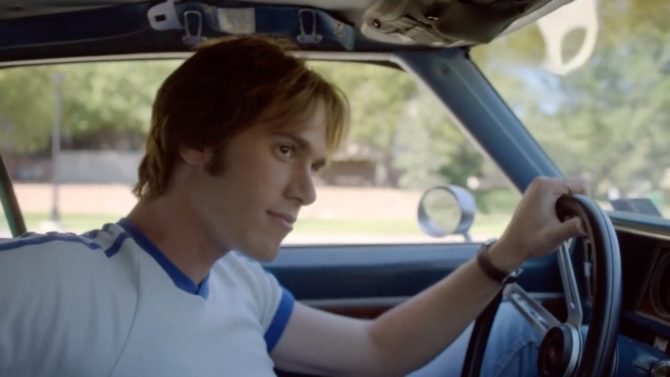 El festival SXSW se llevará a cabo en marzo en Austin, Texas. Como es costumbre este será el lugar donde se estrenarán varias películas domésticas, internacionales y hasta documentales.
Uno de los estrenos más anticipados es el de la nueva película de Richard Linklater, titulada Everybody Wants Some. El elenco del filme está compuesto por Ryan Guzmán, Will Brittain, Zoey Deutch, Glen Powell y Wyatt Russell y la historia te transportará a la década de los 80 donde seguirás a un grupo de estudiantes universitarios que acaban de ingresar a la casa de estudios.
Demolition es otra de las películas más esperadas en el SXSW. Esta cinta protagonizada por Jake Gyllenhaal y Naomi Watts gira en torno a un exitoso banquero que tendrá que luchar en contra de la depresión que le genera en su vida la pérdida de su esposa, quien fallece en un accidente automovilístico.
Aquí tienes el resto de la cartelera de lo más esperado en el SXSW:
Competencia de película narrativa
The Arbalest
Director: Adam Pinney
Elenco: Mike Brune, Tallie Medel
Before The Sun Explodes
Directores: Debra Eisenstadt. Guionistas: Debra Eisenstadt, Zeke Farrow
Elenco: Bill Dawes, Sarah Butler, Christine Woods, Michael Rivkin, Amir Arison, Kerri Safran, Anna Margaret Hollyman, Gene Serritella, Kristin Slaysman, Eric Fillipkowski
Claire in Motion
Directores: Lisa Robinson, Annie J. Howell
Elenco: Betsy Brandt, Chris Beetem, Zev Haworth, Anna Margaret Hollyman, Sakina Jaffrey
collective:unconscious
Directores: collective:unconscious (Lily Baldwin, Frances Bodomo, Daniel Patrick Carbone, Josephine Decker, Lauren Wolkstein)
Elenco: Frank Mosley, Will Blomker, Lily Baldwin, Tonya Pinkins, Daniel Ryan, Ryan Cassata, Sanda Weigl, MJ Frank, Samuel John Damon, Jamal Batts
Donald Cried
Directores: Kris Avedisian. Guionistas: Kris Avedisian, Kyle Espeleta, Jesse Wakeman
Elenco: Kris Avedisian, Jesse Wakeman, Louisa Krause
Hunter Gatherer
Director: Josh Locy
Elenco: Andre Royo, George Sample III, Kellee Stewart, Ashley Wilkerson, Kevin Jackson, Antonio D. Charity, Celestial, Alexis DeLaRosa, Jeanetta Arnette
Miss Stevens
Directora: Julia Hart
Elenco: Lily Rabe, Timotheé Chalamet, Lili Reinhart, Anthony Quintal, Rob Huebel, Oscar Nuñez
The Other Half 
Director: Joey Klein
Elenco: Tom Cullen, Tatiana Maslany, Suzanne Clement, Henry Czerny, Mark Rendall, Deragh Campbell, Nancy Palk
A Stray
Director: Musa Syeed
Elenco: Barkhad Abdirahman, Faysal Ahmed , Christina Baldwin, Ayla, Fathia Absie, Jamaal "Happy Khalif" Farah, Abdullahi Haji-Mohamed, Ifrah Mansour, Rhiana Yazzie, George McCauley
Transpecos
Director: Greg Kwedar
Elenco: Johnny Simmons, Gabriel Luna, Clifton Collins, Jr.
Competencia de documental
Accidental Courtesy: Daryl Davis, Race & America
Director: Matt Ornstein
Alive and Kicking
Directora: Susan Glatzer
Best and Most Beautiful Things
Director: Garrett Zevgetis
Goodnight Brooklyn – The Story of Death By Audio
Director: Matthew Conboy
The Liberators
Director: Cassie Hay
Orange Sunshine
Director/Guionista: William A. Kirkley
Ovarian Psycos
Directoress: Joanna Sokolowski, Kate Trumbull-LaValle
The Seer
Director: Laura Dunn
The Space in Between – Marina Abramovic and Brazil 
Director: Marco Del Fiol
TOWER
Director: Keith Maitland
Películas principales 
Demolition
Director: Jean-Marc Vallee
Elenco: Jake Gyllenhaal, Naomi Watts, Chris Cooper, Judah Lewis
Don't Think Twice
Director: Mike Birbiglia
Elenco: Keegan-Michael Key, Gillian Jacobs, Mike Birbiglia, Kate Micucci, Tami Sagher, Chris Gethard
Everybody Wants Some
Director: Richard Linklater
Elenco: Will Brittain, Zoey Deutch, Ryan Guzmán, Tyler Hoechlin, Blake Jenner, J. Quinton Johnson, Glen Powell, Wyatt Russell
Hardcore Henry (Russian Federation)
Director: Ilya Naishuller
Elenco: Sharlto Copley, Danila Kozlovsky, Haley Bennett, Andrey Dementyev, Dasha Charusha, Sveta Ustinova
In A Valley of Violence
Director: Ti West
Elenco: Ethan Hawke, Taissa Farmiga, James Ransone, Karen Gillan, John Travolta
Midnight Special
Director: Jeff Nichols
Elenco: Michael Shannon, Joel Edgerton, Kirsten Dunst, Adam Driver, Jaeden Lieberher, Sam Shepard
Pee-wee's Big Holiday
Director: John Lee
Elenco: Paul Reubens, Joe Manganiello, Jessica Pohly, Alia Shawkat, Stephanie Beatriz
Tony Robbins: I Am Not Your Guru
Director: Joe Berlinger
SXGLOBAL
BODKIN RAS (Bélgica/Holanda/UK)
Director: Kaweh Modiri
Elenco: Sohrab Bayat, Lily Szramko, Eddie Paton, James Macmillan
Dead Slow Ahead (España)
Director: Mauro Herce
Ghostland (Alemania)
Director: Simon Stadler
KILL ME PLEASE (Brasil)
Directora: Anita Rocha Da Silveira
Papagajka (Australia/UK)
Director: Emma Rozanski
Elenco: Adnan Omerovic, Susanna Cappellaro, Tina Kerserovic, Sabina Mrgan, Don Guido (World Premiere)
UIO: Take me for a Ride (Colombia/Ecuador/México)
Director: Micaela Rueda
Elenco: Samanta Caicedo, María Juliana Rángel, Diego Naranjo, Paty Loor, Monserrat Astudillo, Miranda Zepeda, Anne Dominque Correa, Domenica Blanco, Ana Belén Bermeo
YARN (Islandia)
Directores: Una Lorenzen, Thordur Jonsson, Heather Millard
El festival comienza el 11 de marzo y termina el 20 de ese mismo mes. Entra aquí para ver la cartelera completa e información de las funciones.