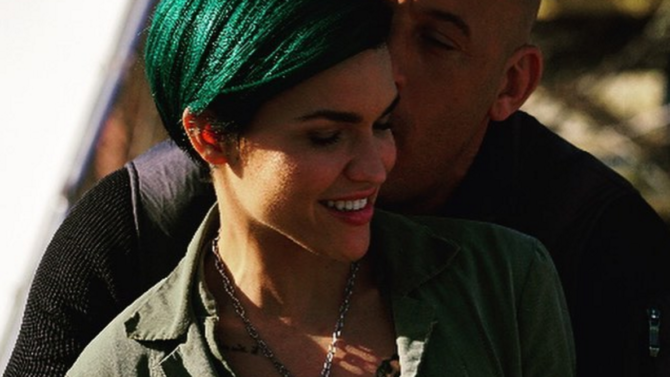 El actor Vin Diesel expresó su alegría por integrar el elenco de la próxima película xXx: Return of Xander Cage en su cuenta de Instagram, y compartió una foto donde está junto a la actriz Ruby Rose.
"Xander y Adele…La química entre el elenco completo de la nueva 'xXx' es tan auténtica. Muy orgulloso de todo el equipo. ¡20 de enero", escribió Diesel junto a la imagen en donde besa a su compañera de trabajo.
Tras 14 años de ausencia, el agente Xander Cage (Diesel) regresa en la saga de películas xXx, para luchar contra nuevos villanos, sacando provecho de sus habilidades para los deportes extremos.
Xander, de quien pensábamos que había muerto luego ser abandonado durante una misión, regresará secretamente al campo de acción con la ayuda del agente Augustus Gibbons (Samuel L. Jackson).
Pero no todo será trabajo para el personaje interpretado por Diesel, quien tendrá la oportunidad de compartir bellas mujeres interpretadas por las actrices Ruby Rose, Nina Dobrev, Deepika Padukone y la colombiana Ariadna Gutiérrez-Arévalo, quien hace su debut en el cine.
xXx: Return of Xander Cage se estrenará el 20 de enero de 2017 en salas de cine de Estados Unidos.