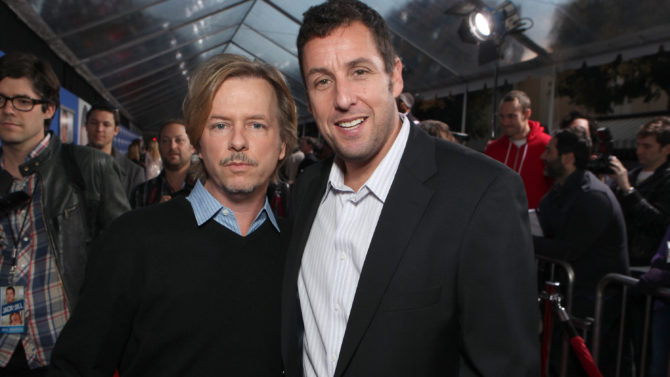 Ya puedes ver el próximo trabajo de los comediantes Adam Sandler y David Spade en un tráiler (¡no apto para la oficina!) de la película The Do-Over, que estará disponible sólo en Netflix.
La premisa de la cinta indica lo que el título sugiere; una segunda oportunidad. Charlie, el personaje de Spade, vive día a día miserablemente, hasta que en la celebración de los 25 años de haberse graduado, se reencuentra con Max, su amigo de high school, interpretado por Sandler. Aquí es cuando se dan la oportunidad de volver a empezar, o fingir la muerte para iniciar una nueva vida.
Este miércoles, además de lanzar el tráiler oficial, Netflix publicó el póster del show:
El tráiler de la película, dirigida por Steven Brill, muestra a los comediantes en todo tipo de líos, incluidos un tiroteo, un trío en el que participa el actor Luis Guzmán, drogas, explosiones y hasta homicidio involuntario.
The Do-Over es la segunda de cuatro películas que la productora de Sandler, Happy Madison, hará en exclusiva para Netflix. La primera fue la comedia western Ridiculous 6.
Dale un chance a The Do-Over que estrena en Netflix el 27 de mayo. No te pierdas el traíler de esta comedia:
https://www.youtube.com/watch?v=wXvGj_9LNsw