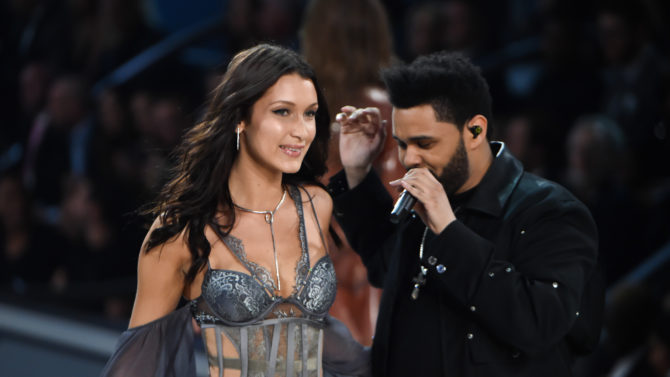 Dicen que una imagen vale más que mil palabras, y eso fue lo que le pasó al momento del esperado reencuentro entre Bella Hadid y Abel Tesfaye, más conocido por su nombre artístico, The Weeknd.
VER TAMBIÉN Bella Hadid explica por qué perdió peso para la pasarela de Victoria's Secret
Hadid y el cantante se encontraron en la pasarela del desfile anual de Victoria's Secret, fueron segundos en los que Bella sonrío, volvió a la seriedad, y también tuvo cara de melancolía, mientras que el cantante prefirió no mirarla a los ojos.
Esta fue la primera vez que la modelo desfiló en el afamado fashion show, y coincidió que su ex fuera uno de los artistas invitados a cantar.  Además, el momento se prestó para una cantidad de comentarios en redes sociales.
Hadid no tuvo sino elogios para el cantante y así lo hizo saber a través de su cuenta en Instagram. "No lo puedo creer! ¡Tenía una sonrisa enorme adentro lo prometo! Es la experiencia más estresante y más divertida de mi vida, pero quisiera volverlo a hacer una y otra vez! Gracias @Theweeknd por ser el mejor y el artista más increíble del planeta. La rompiste como siempre".
RELACIONADO The Weeknd cuenta por qué se cortó el cabello
En el preámbulo al desfile, la modelo dijo que ella y el artista eran mejores amigos y se sentían cómodos trabajando juntos de esta forma.