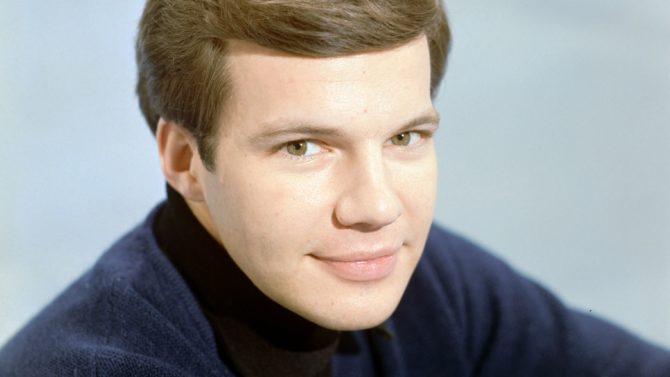 Bobby Vee, el ídolo de la música pop de la década de los 60, murió el lunes 24 de octubre debido a la enfermedad de Alzheimer. Tenía 73 años.
Su hijo Jeff Velline informó que el cantante murió pacíficamente y rodeado de su familia. "Fue el final de un largo y duro camino", dijo a BBC.com, y describió a su padre como "una persona que trajo alegría a todo el mundo".
Bobby Vee era conocido por sus éxitos "Rubber Ball", "Take Good Care of My Baby" y "The Night Has a Thousand Eyes".
Vee, cuyo nombre real era Robert Velline, había nacido en Fargo, Dakota del Norte, y lanzó más de 25 álbumes en toda su carrera. Se retiró en 2011 tras ser diagnosticado con una fase temprana del Alzheimer.
Su gran oportunidad llegó en 1959, cuando tenía 15 años, y reemplazó al cantante Buddy Holly quien murió en un accidente aéreo en Iowa, junto a Ritchie Valens, The Big Bopper y el piloto Roger Peterson.
Holly tenía que actuar en el Moorhead National Guard Armory, y Vee con su banda, que solo habían tocado hacía dos semanas, se ofrecieron a reemplazarlo.
Vee también le dio la oportunidad musical a Bob Dylan, quien tocó por un breve tiempo junto a su banda Shadows y fue el que le sugirió a Velline que se cambiara su apellido a Vee, de acuerdo con BBC.com.
Bobby Vee y su banda fueron contratados en 1959 y lograron colocar su primer éxito llamado "Devil or Angel" en las listas de Billboard.
Luego llegaron otros hits como "The Night Has a Thousand Eyes", "Come Back When You Grow Up", "Please Don't Ask about Barbara" y "Punish Her".
VER TAMBIÉN Los famosos que han muerto en lo que va del 2016
Vee estuvo casado con Karen por más de 50 alos y tuvieron cuatro hijos. Ella murió en 2015 a los 71 años.
Descansa en paz, Bobby Vee.