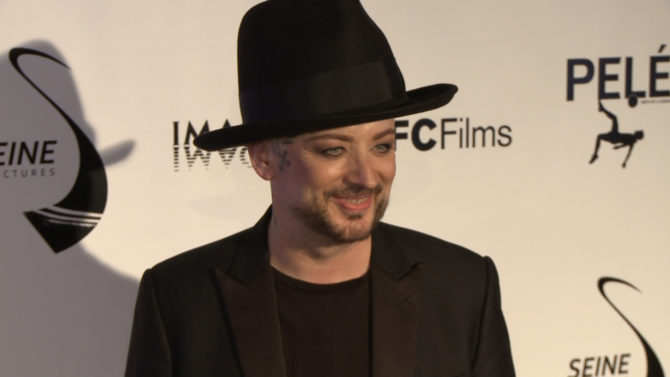 Boy George, el vocalista de Culture Club, estuvo presente en la premier de la cinta Pelé Birth of a Legend, que se llevó a cabo en Los Ángeles, California este jueves 12 de mayo. Variety Latino tuvo la oportunidad de hablar con este artista británico de 54 años para averiguar cuál era su conexión con el mundo del fútbol.
Primero que nada, el cantante se identifica como un fanático de Pelé y, precisamente por ello, asistió al estreno de la cinta que cuenta la historia de cómo Edson Arantes do Nascimento, nombre completo de esta importante figura latinoamericana, estuvo presente en la Copa Mundial de Fútbol de 1958 con tan solo 16 años.
Al preguntarle cómo siendo tan glamuroso se identificaba con el fútbol, el cantante señaló que cuando estaba pequeño tenía que jugar este deporte en la escuela. Cuando lo hacía se aseguraba de que los demás vieran que él se encontraba en constante movimiento. El artista confesó además que se aseguraba que nadie la pasara el balón, porque si eso pasaba seguro el equipo perdía por su culpa.
Boy George no será un buen futbolista, pero sí es reconocido como una de las figuras más importantes del movimiento neo romántico del rock, popularizado por bandas como The Cure.
La canción de Culture Club "Karma Chameleon" fue un éxito sin precedentes y hoy en día todavía es recordada por muchos: