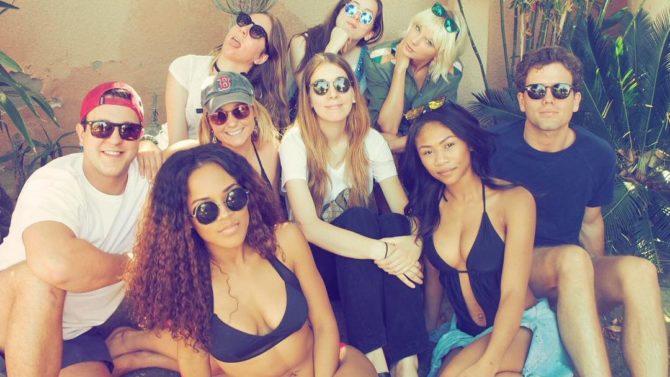 A Taylor Swift no le basta con ser famosa, también asiste a Coachella, uno de los festivales más famosos del mundo, con sus amigos famosos. Pero de acuerdo a la cantante de "Out Of The Woods", esta pandilla, más que de amigos, es una "familia".
La mega estrella de pop publicó varias fotografías directamente desde el festival, al cual asistió para apoyar a su novio, el DJ Calvin Harris, quien es el plato fuerte del concierto que se celebrará la noche del domingo.
"Foto familiar", escribió Swift, en la que aparece con su hermano menor, Austin Swift, el músico Jack Antonoff, la banda Haim, y la cantante del súper hit "Royals", Lorde.
En una última fotografía en blanco y negro, la intérprete de "Bad Blood" aparece enfilada junto a su squad. "Siento que las gargantillas son las nuevas coronas de flores", bromeó Taylor sobre este singular resurgimiento del mundo de los accesorios de chica.
El festival de Coachella 2016, que se está llevando a cabo en Indio, California, ofrecerá el mismo cartel de bandas por dos fines de semana consecutivos, del 15 al 17 de abril y del 22 al 24 del mismo mes.