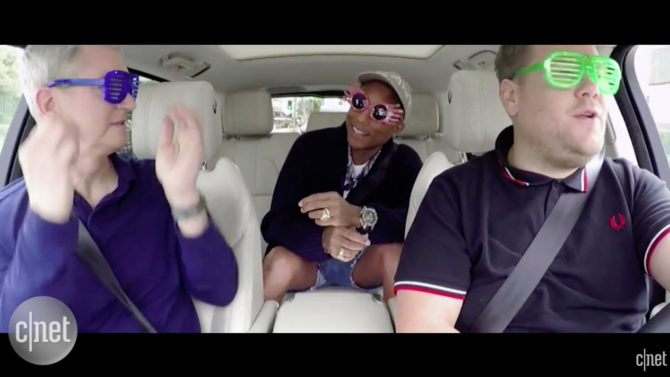 Cuando eres Tim Cook, el CEO de Apple, puedes contar con la ayuda de famosos como James Corden en caso de necesitar un aventón. Precisamente eso fue lo que hizo el famoso ejecutivo para llegar a tiempo al evento de lanzamiento del nuevo iPhone 7, que se llevo a cabo este 7 de septiembre.
Cook y Corden realizaron una versión especial del popular segmento Carpool Karaoke, en la que el presentador británico trató de sacarle sin éxito información al director ejecutivo sobre el nuevo iPhone, quien se limitó a decir que es el teléfono móvil más seguro que Apple ha lanzado.
VER TAMBIÉN Britney Spears recuerda sus inicios como cantante en 'Carpool Karaoke' con James Corden [VIDEO]
Durante su recorrido en auto el británico también trató de aconsejar al empresario sobre la manera en la que debía presentarse durante el evento anual de su compañía, momento en el que recogió a Pharrell para que le diera algunos consejos a Cook.
Obviamente que la música no podía faltar en un video de Carpool Karaoke, por lo que el trio cantó a todo pulmón parte del clásico de la banda Lynyrd Skynyrd, "Sweet Home Alabama", en honor a Cook, quien es originario de ese estado.
VER TAMBIÉN Jessica Alba se une al reality 'Planet of the Apps', de  Apple
La presencia del ejecutivo en el popular segmento parece propicia, teniendo en cuenta que Apple Music adquirió recientemente los derechos de Carpool Karaoke, con la intención de convertirlo en un programa de televisión. La serie, que aún tiene fecha de estreno, tiene un pedido de 16 episodios y en cada entrega famosos intérpretes cantarán a dúo con un presentador o conductor, que todavía no ha sido elegido, mientras recorren en auto lugares de importancia para la celebridad a bordo.