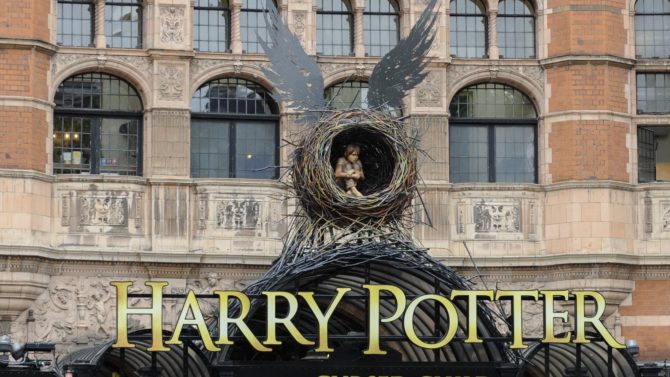 Desde su lanzamiento en el emblemático teatro londinense West End, Harry Potter and the Cursed Child ha demostrado ser todo un éxito en taquilla, por lo que muchos se preguntaban si la obra llegaría a Broadway.
Pues los productores de la obra, J.K. Rowling, Sonia Friedman y Colin Callender emitieron un comunicado conjunto en el que señalaron que la llegada de la octava parte de la saga de Harry Potter a Broadway es inminente, por lo que el teatro en el que se presentará, Lyric, será sometido a extensas renovaciones.
VER TAMBIÉN Daniel Radcliffe habla sobre la posibilidad de retomar el papel de Harry Potter en 'Harry Potter and the Cursed Child'
La sala en la que actualmente se está presentando el show Paramour, del Cirque Du Soleil, será completamente transformada para adaptarse a la escenografía y los requerimientos de la puesta en escena basada en el famoso mundo mágico creado por Rowling.
Entre otras cosas, las 1,900 sillas con las que cuenta el auditorio, propiedad del consorcio Ambassador Theater Group, serán reducidas a 1,500 para crear un ambiente más íntimo.
"Estamos emocionados por los ambiciosos planes de ATG, que ofrecerán una oportunidad única de crear un espacio teatral diseñado en base a las necesidades específicas de la producción de la obra que consta dos partes", lee parte del comunicado publicado por Deadline. "Los planes de ATG ofrecerán a  Harry Potter and the Cursed Child un espacio hecho a la medida que será lo suficientemente íntimo para un drama, y lo suficientemente grande para cumplir con nuestro compromiso de ofrecerle a la audiencia acceso a boletos económicos".
VER TAMBIÉN 16 películas inspiradas por libros para adolescentes
La obra se sitúa 20 años después de los sucesos ocurridos en el séptimo libro de Potter, y se centra en los hijos de este personaje y de Draco Malfoy, quienes deben vivir con el legado de sus padres durante sus años escolares en Hogwarts.
El drama, que llegaría a Broadway en el 2018, podría resultar más exitoso que Hamilton, ya que desde su estreno hace casi 6 meses cuenta con lleno total en sus funciones y sus boletos han llegado a venderse hasta por 8,000 dólares.