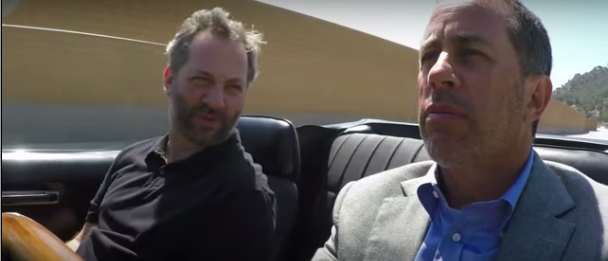 Hamburguesas, sexo y humor en el viaje en coche de Judd Apatow y Jerry Seinfeld en el nuevo episodio de Comedians in Cars Getting Coffee.
"¿Quién decidió que las hamburguesas no son un alimento para el desayuno?", es una de las preguntas que Apatow le hace a Seinfeld en el más reciente episodio de Comedians in Cars Getting Coffee, que estrena este jueves 30 de junio. 
"Humanos", le espeta Seinfeld, creador de este programa de que transmite la cadena Crackle en la que el comediante se va de paseo con un humorista en antiguos y clásicos automóviles para dar rienda suelta a la improvisación y las risas. 
Apatow, creador de películas como The 40-Year-Old Virgin, Knocked Up, y la nueva comedia de Netflix, Love, se junta con Seinfeld para dar un paseo en un coche convertible rojo, modelo Firebird 400, del año 1968. Durante el viaje en carretera el dúo se dirige a The 101 Coffee Shop en la ciudad de Los Ángeles para tomar café y, por qué no también, unas hamburguesas. 
La octava temporada de Comedians in Cars Getting Coffee que estrena show todos los jueves contará con la participación del humorista JB Smoove, el creador de Saturday Night Live, Lorne Michaels, y el presentador de Last Week Tonight, John Oliver.
Esta temporada ya ha tenido la participación de la comediante Margaret Cho y el artista de stand up Jim Gaffigan.
No te pierdas este jueves a Judd Apatow hablar con Seinfeld de todo un poco, desde temas de sexo, ambición, autopsias y hasta la pose fotográfica de inodoro en Comedians in Cars Getting Coffee.