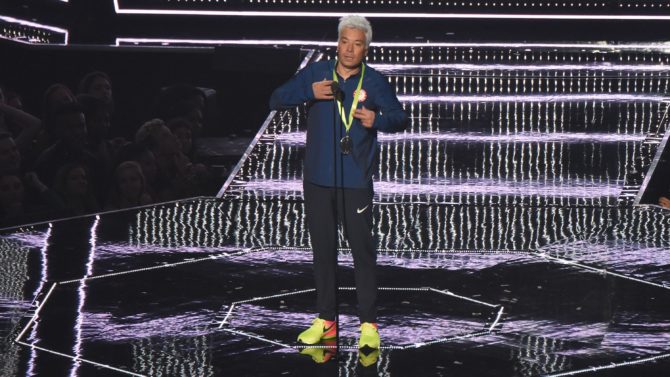 Jimmy Fallon trató de impresionar a la audiencia de los VMAs 2016 con una referencia a la cultura pop. Vestido con el uniforme de natación del equipo olímpico de Estados Unidos y el cabello rubio platinado, Fallon se transformó en Ryan Lochte.
VER TAMBIÉN Ryan Lochte está en conversaciones para unirse a 'Dancing with the Stars'
La cara de Michael Phelps fue lo mejor de este segmento, quien de inmediato sacó su celular para grabar el momento, y las cámaras captaron su cara de sopresa.
"Yo escribí esa canción, es más, yo produje y dirigí las cinco canciones nominadas al 'Mejor video del año'", dijo Fallon. Pero el público no reaccionó tanto a una broma, en la que el comediante dijo, que no podría escoger su video favorito ni aunque le pusieran una pistola en la cabeza.
Tal vez fue demasiado pronto para hacer la sátira, por lo demás, fue divertido ver algo distinto a las presentaciones de los premios.
RELACIONADO Barbra Streisand canta a dúo con 'Donald Trump' en el show de Jimmy Fallon [VIDEO]