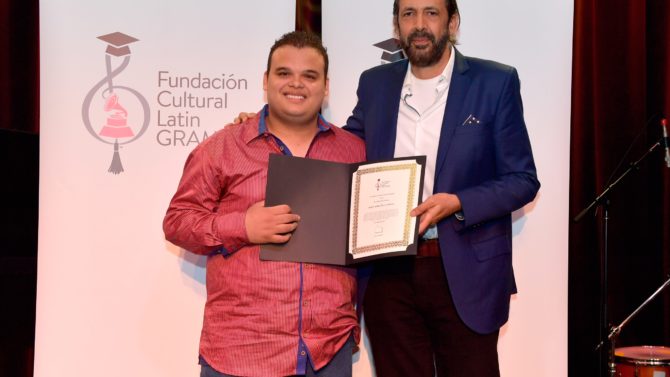 La Fundación Cultural Latin Grammy y el cantante dominicano Juan Luis Guerra le otorgaron una beca al pianista colombiano Jesús Molina Acosta, de 20 años. Esta ceremonia se llevó a cabo en el Berklee College of Music de Boston, Massachusetts. El joven fue escogido entre seis finalistas que fueron seleccionados por el comité de becas de este importante organismo.
El intérprete de "El Niágara en bicicleta" ayudó a escoger al ganador, cuya beca tiene un valor máximo de $200.000 dólares con los que podrá perfeccionar sus conocimientos en el área musical.
"La Fundación Cultural Latin GRAMMY tiene el honor de ser capaz de ayudar a fomentar la educación de Jesús Molina Acosta, un pianista apasionado con un talento único", así lo señaló Manolo Díaz, vice presidente de la organización. "Nuestro objetivo principal es proporcionar apoyo económico a estudiantes excepcionales de la música latina con necesidades financieras, y nuestra asociación con Juan Luis Guerra y Berklee College of Music es esencial para nuestro éxito en el cumplimiento de ese objetivo", añadió el ejecutivo.
Por otro lado Roger H. Brown, presidente de Berklee College of Music, dijo que estaba profundamente agradecido con la relación que se ha entablado con la Fundación Cultural Latin Grammy, "ya que fortalece los lazos de la universidad con la cultura y la música latina".
El feliz ganador podrá comenzar a estudiar en esta importante escuela de música en el semestre que dará inicio en otoño de 2016.