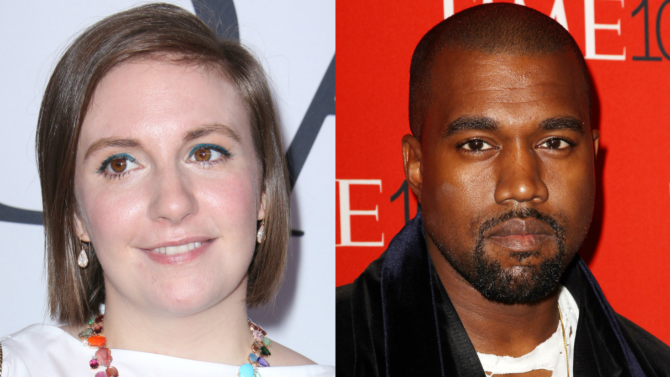 La noche del viernes 24 de junio, Kanye West lanzó el video oficial del tema "Famous" (mismo single que dio de qué hablar en febrero por la línea: "I feel like me and Taylor might still have sex / Why? I made that bitch famous").
En las imágenes del video, Taylor Swift, Rihanna, George W. Bush, Donald Trump, Bill Cosby, Anna Wintour, Chris Brown, Ray J, Amber Rose y Caitlyn Jenner aparecen desnudos en una cama. Esto para crear otra versión del trabajo del pintor estadounidense Vincent Desiderio.
Claro está, al momento del lanzamiento, las críticas a través de las redes sociales llovieron a cántaros. Este lunes, la actriz y activista feminista Lena Dunham usó su cuenta de Facebook para expresar su desacuerdo con las imágenes.
"El video de 'Famous' es uno de los esfuerzos 'artísticos'  más inquietantes actualmente… ¿Ahora tengo que ver los cuerpos de mujeres famosas de cera tendidos, inconscientes, retorcidos, como si hubieran sido drogados? Me hace sentir repugnancia", escribió la actriz.
Dunham agregó que, aunque disfruta del desnudo en piezas de arte, el ver a personas que ama en el video (como Taylor y Rihanna) le dolió y no quiso "ni mirar".
"Kanye: tú eres cool", escribió Lena, y agregó que queda a la espera de ver qué es lo próximo que traerá el cantante. Luego finalizó: "Presenta tu idea sobre la fama, la privacidad, los Illuminati o lo que sea que esté en tu mente. Pero no puedo verlo (el video), no quiero verlo, se siente inspirado en los aspectos de nuestra cultura que hacen que las mujeres se sienten inseguras, incluso en su propia cama, en sus propios cuerpos".
Asimismo, al día siguiente del estreno del video, Kanye ofreció una entrevista a la revista Vanity Fair y explicó que el video "no es a favor ni en contra de nada… Es un comentario en relación a la fama".