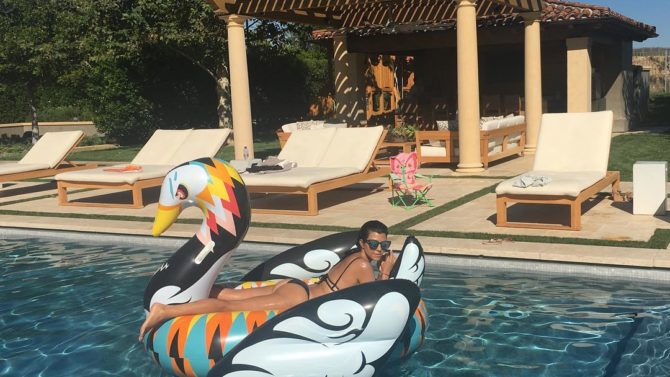 Kourtney Kardashian sigue el ejemplo de sus hermanas al mostrar su cuerpazo. A través de una serie de fotos publicadas en su cuenta oficial de Instagram, la estrella de los realities enseñó lo bien que se ve en bikini.
Kardashian, de 37 años y madre de 3 niños, reveló cómo pasa su tiempo libre: En la piscina. En las imágenes compartidas, una de las protagonistas del exitoso programa Keeping Up with the Kardashians aparece recostada sobre un enorme y colorido cisne flotador.
"Cuando no pueden encontrarme", escribió la ex de Scott Disick en el mensaje que acompaña a la sexy fotografía, que haría sentir celos a cualquiera.
La hermana mayor de Kim y Khloé Kardashian a menudo habla de su rutina para ejercitarse. "Trato de hacer ejercicios cinco veces a la semana. Normalmente comienzo con una rápida trotada o saltar la cuerda para calentar", aseguró. "Tengo que hacer algo verdaderamente rápido para que valga la pena", comentó Kourtney a la revista People.