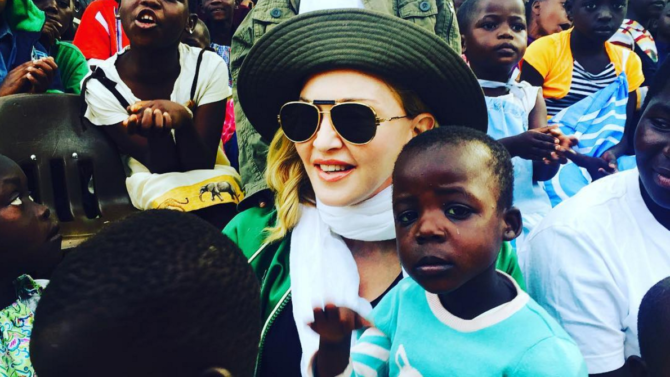 La reina de pop, Madonna, documentó en sus redes sociales su viaje de caridad a Malawi, en África, adonde fue acompañada de sus hijos Rocco Ritchie y Mercy James.
El adolescente de 15 años acompañó a su famosa madre a hacer labores filantrópicas en el orfanato Home Of Hope Orphanage ubicado en Michingi, Malawi, como parte de la fundación de la estrella, Charity Raising Malawi.
VER TAMBIÉN Madonna visita albergues infantiles en Filipinas
La cantante de 57 años parece que ha dejado atrás las asperezas con su hijo Rocco, de 15 años, con quien se ha reunido hace unas semanas después de haber mantenido una batalla legal por su custodia con su exmarido y padre del chico, Guy Ritchie.
En esta imagen se lo ve a Rocco compartiendo con los residentes locales:
La pequeña Mercy James, de 10 años, muy sonriente con los niños del orfanato: "¡Mercy haciendo nuevos amigos en Home of Hope in Michingi, Malawi!", escribió su orgullosa mamá.
En otra foto se ve a Madonna a su llegada y cargando un niño en sus brazos:
Madonna fundó esta obra de caridad en el 2006 con el objetivo de darles apoyo a los huérfanos y niños vulnerables de Malawi a través de cuidados médicos y educación.