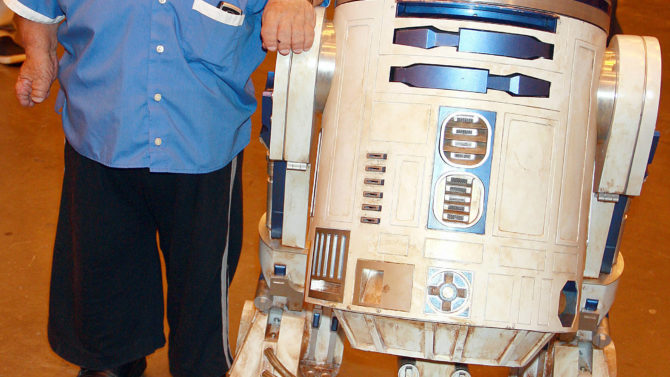 Kenny Baker, actor que le dio vida al icónico R2-D2 en la saga Star Wars, falleció a los 81 años tras una larga enfermedad. La noticia fue publicada este 13 de agosto por The Guardian.
Abigail Shield, sobrina de Baker, confirmó el fallecimiento del intérprete. "Era de esperarse, pero es triste no obstante. Tuvo una vida muy larga y plena. Él trajo mucha felicidad a la gente y vamos a estar celebrando el hecho de que fue muy querido en todo el mundo. Todos estamos muy orgullosos de lo que logró en su vida", expresó Shield al reconocido medio noticioso.
Baker, que contaba con 1,12 m de estatura, obtuvo la fama en 1977 al darle vida al gracioso R2-D2 en Star Wars: Episode IV – A New Hope, la primera entrega de la legendaria saga de ciencia ficción. Posteriormente, el actor participó en The Empire Strikes Back, Return of the Jedi, así como en las precuelas de la franquicia desde 1999 hasta 2005.
Este intérprete además actuó en varias célebres cintas de la década de los ochenta, tales como The Elephant Man, Time Bandits y Flash Gordon.
Baker había sufrido durante mucho tiempo de una enfermedad y fue a menudo visto en una silla de ruedas. "Le pidieron que fuera a Los Ángeles para el nuevo estreno de Star Wars, pero se le dijo que estaba demasiado enfermo para viajar", comentó su sobrina a The Guardian.