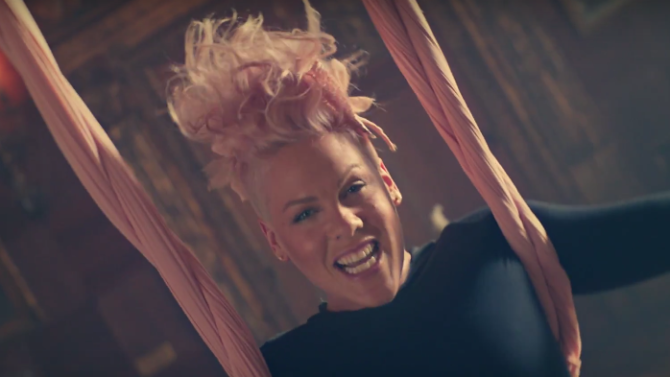 P!nk demuestra una vez más que es toda una experta haciendo acrobacias en el genial video de su canción "Just Like Fire", sencillo que forma parte de la banda sonora de Alice Through the Looking Glass, tema que la artista escribió con ayuda de veteranos del mundo de la música como Max Martin, Shellback y Oscar Holter.
Al comienzo del clip, un hombre tatuado está en la cocina de una casa. Este mismo individuo, después de terminar lo que está haciendo, le pregunta a P!nk si piensa quedarse colgada del techo todo el día. Es precisamente acá cuando la canción arranca, momento en el que la intérprete demuestra sus habilidades de acróbata, justo antes de atravesar un espejo que la lleva derechito al país de las maravillas.
Al parecer esta canción será un regreso triunfal para P!nk quien cantará el sencillo, totalmente en vivo, en los Billboard Music Awards 2016.
Alice Through The Looking Glass es la segunda parte de Alice in Wonderland (2010), cinta dirigida por Tim Burton. Esta vez quien está detrás del lente es James Bobin y la película está protagonizada una vez más por Mia Wasikowska, como Alice, y Johnny Depp en el papel del Mad Hatter.