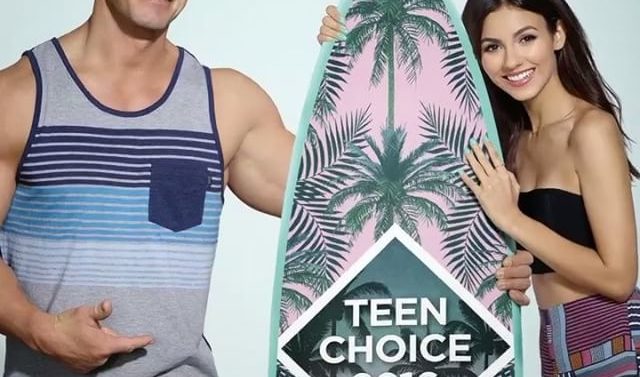 Este domingo 31 de julio se celebran los Teen Choice Awards, premiación que se dará cita en el anfiteatro The Forum, ubicado en Inglewood, California.
Este evento marcará la edición número 18 de la premiación, que este año contará con la conducción de la estrella de la WWE John Cena, y la actriz y cantante Victoria Justice, quien acaba de confirmar que no usará un atuendo, sino 6 a lo largo de la noche.
En entrevista con E! News, la actriz de 23 años afirmó que eligió un vestido Versace para su entrada a la alfombra roja de los premios. Así que tendremos que esperar a la transmisión para conocer el resto de sus elecciones.
Charlie Puth, Flo Rida, Justin Timberlake y Serayah se presentarán durante la ceremonia, que además contará con la presencia de famosos de la talla de Jennifer Garner, Jessica Alba, Chris Evans, Lea Michele, Sarah Hyland, Ashley Benson, Shay Mitchell, Ne-Yoand y Daisy Ridley.
Entre los grandes nominados a los Teen Choice Awards de este año se encuentran: Justin Bieber (liderando la lista con 5 nominaciones), Gigi Hadid, Kim Kardashian, Kylie Jenner, Kendal Jenner, Selena Gómez y Demi Lovato.
En materia de cine, las cintas Captain America: Civil War y Batman v Superman: Dawn of Justice dominan las nominaciones. En TV, la serie favorita continúa siendo Pretty Little Liars con seis nominaciones, seguida de los shows The Vampire Diaries, Empire, Scream Queens, Jane the Virgin y The Flash
Los TCAs 2016 serán transmitidos en vivo por FOX, a partir de las 8pm ET. No te pierdas nuestra cobertura completa de la premiación este domingo 31 de julio, a partir de las 6pm ET/3pm PT. ¡Te esperamos!