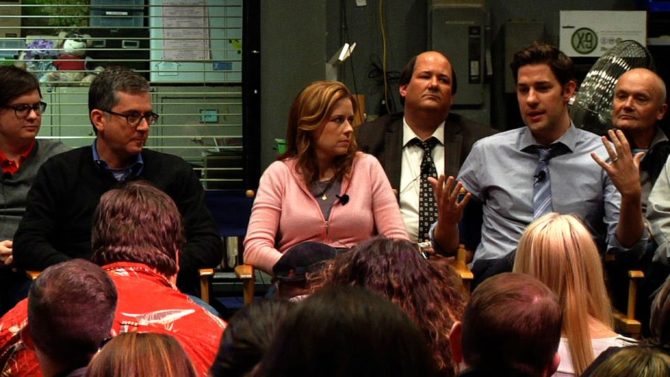 Son muchos los que extrañan The Office, y aunque no existen planes de revivir el show, al menos sabemos que sus protagonistas han continuado su relación y se reúnen de vez en cuando.
Además de Michael Scott (Steve Carell), personajes como Pam Beesly (Jenna Fischer), Angela Martin (Angela Kinsey) y Oscar Martínez (Oscar Nuñez) se convirtieron en pilares de la serie que causó conmoción cuando llegó a su fin hace tres años. Es por eso que el junte entre Fisher, Kinsey y Nuñez emocionó a los fanáticos de la galardonada producción.
Acá pueden ver la foto que fue compartida por Fischer.
En realidad, esta no es la primera reunión del reparto. En Septiembre del año pasado, Fischer se reunió con Kinsey, Kate Flannery, (Meredith Palmer en el show) y Ellie Kemper (Erin Hannon en The Office) para recrear la foto de la despedida de soltera de la actriz, quien en 2010 se casó con el escritor Lee Kirk.
The Office estuvo al aire desde marzo de 2005 hasta mayo de 2013. Tuvo un total de nueve temporadas. La producción contaba el día a día de los empleados de una compañía de papel ficticia llamada Dunder Mifflin.
Actualmente Fischer interpreta el papel de una bibliotecaria de nombre Rhonda en la comedia de NBC You, Me and the Apocalypse. Kinsey tiene presencia en Hulu con The Hotwives y Nuñez ha aparecido en distintos shows como Brooklyn Nine-Nine.