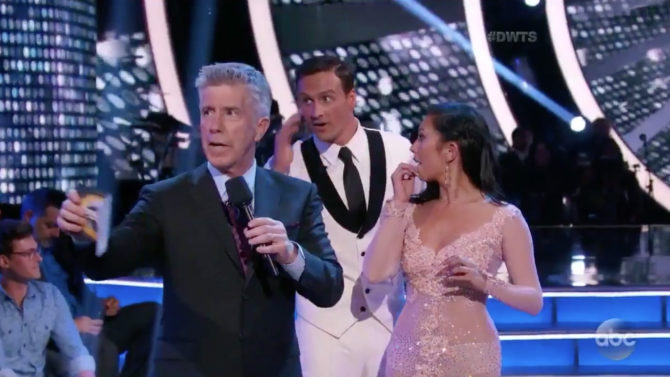 El debut de Ryan Lochte en Dancing With The Stars se vio empañado por dos hombres que intentaron ingresar al escenario sin autorización en un aparente ataque contra el nadador.
El suceso ocurrió en vivo, mientras Lochte y su compañera de baile escuchaban los comentarios de la juez Carrie Ann Inaba sobre su presentación, momento en el que Sam Sododeh, de 48 años, y Barzeen Soroudi, de 40, se metieron al escenario vistiendo camisetas con un símbolo contra Lochte, aparentemente enfadados por el escándalo que el nadador protagonizó en Río de Janeiro.
VER TAMBIÉN Ryan Lochte es suspendido de la selección nacional por 10 meses
"Disculpen, disculpen", dice en varias ocasiones Inaba mientras mira incrédula lo que está ocurriendo. En ese momento Tom Bergeron, presentador del reality, trata de arreglar la situación mandando a un corte de comerciales, mientas el medallista olímpico y su compañera miran a su alrededor visiblemente asustados.
Otro video del incidente publicado en la cuenta de Twitter de Good Morning America muestra el momento en el que los hombres tratan de acercarse al concursante, pero son interrumpidos por los guardias de seguridad que se abalanzan contra ellos para detenerlos. Los sujetos fueron arrestados por la policía de Los Ángeles y enfrentan cargos menores.
VER TAMBIÉN Ryan Lochte sobre falsas declaraciones en Río: "Todavía estaba intoxicado"
Tras lo ocurrido Lochte aseguró estar bien, mientras que Inaba acudió a su cuenta de Twitter para agradecer a los guardias de seguridad del show por su pronta acción, lo que evitó que alguien saliera herido.
¡Que susto!