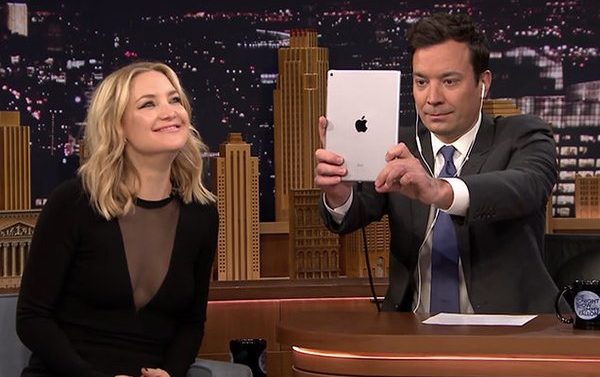 Kate Hudson fue la invitada de honor en The Tonight Show Starring Jimmy Fallon la noche del 25 de enero. La actriz se encontraba promocionando Kung Fu Panda 3 y durante la entrevista jugó "DubSmash" con el presentador.
Si no estás familiarizado con esta aplicación debes saber que "DubSmash" te graba haciendo lipsync de canciones o de frases famosas y después te muestra el resultado de tu hazaña. En el show, tanto Fallon como Hudson tenían que adivinar lo que el otro estaba grabando, lo que resultó ser una ardua tarea.
El animador del programa nocturno comenzó imitando a Oprah Winfrey. Luego, la actriz impresionó a todos con un juego de intensas miradas mientras personificaba a Adele cantando su tema "Hello".
Cabe señalar que la rubia es fanática de la cantante británica. Cuando la inglesa estrenó esta canción, Kate compartió una foto donde aparecía llorando, conmovida por el tema.
El juego siguió, pero cuando los artistas se cansaron de no poder adivinar lo que el otro estaba grabando, decidieron hacer una canción juntos. El tema escogido fue "Who Let the Dogs Out" de Baha Men.
Haz clic abajo para ver el sketch completo: