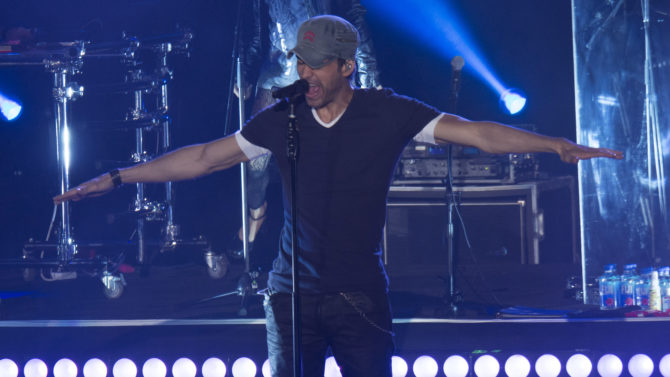 El cantante Enrique Iglesias está de fiesta con el estreno del tema "Duele el corazón", el cual cuenta con la colaboración del puertorriqueño Wisin. Pero eso no es todo, para celebrar este lanzamiento, la compañía Tidal presentó al público un playlist exclusivo hecho con algunas de las canciones favoritas del español.
En esta selección, el hijo de Julio Iglesias no incluyó ninguno de sus temas, sino que  prefirió añadir canciones para escuchar "cuando se está manejando" o durante esos momentos en los que "hace falta inspiración".
El playlist está compuesto de los siguientes temas que puedes escuchar aquí.
"Messin' Around" – Pitbull
"Gold Digger" – Kanye West
"One More Time" – Daft Punk
"How To Love" – Lil Wayne
"Back In Black" – AC/DC
VER TAMBIÉN Arrestan a Rosario Dawson por participar en protesta política
"El Taxi" – Pitbull
"In The Air Tonight" – Phil Collins
"Los Gatos No Ladran" – India Martínez
"Rocket Man (I Think It's Going To Be A Long Long Time)" – Elton John
"Stressed Out" – Twenty One Pilots
"PILLOWTALK" – ZAYN
"Stole the Show – Kygo
"YOUTH" – Troye Sivan
"Obsessions" – Frankie J
"Money For Nothing" – Dire Straits
"Hotel California" – Eagles
"Si No Te Hubieras Ido" – Marco Antonio Solís
"Me, Myself & I" – G-Eazy
"Hotline Bling" – Drake
"Bajito" – Jencarlos Canela
Mientras tanto, el intérprete de temas como "Bailando" y "I Like It" continúa su gira mundial Sex and love, la cual, a partir del 8 de mayo, llegará a Zagreb (Croacia), para continuar en Serbia, Rumanía, Bulgaria y Azerbaiyán. Luego, el novio de la tenista Anna Kúrnikova, se presentará en el festival KTUphoria el próximo 8 de junio en Nueva York.