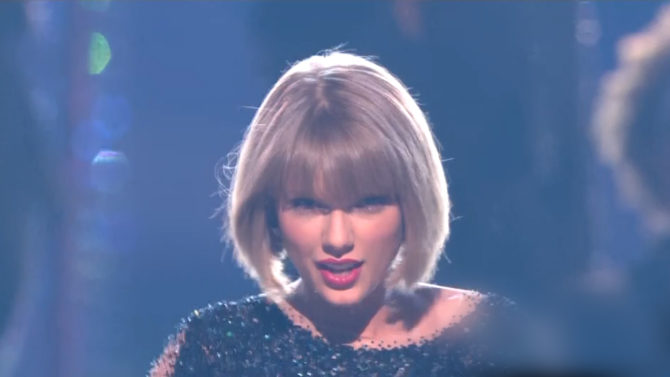 "Hola, y bienvenidos a los Grammy Awards 2016, pero ahorita nos transportamos a 1989", fueron las palabras que sentenció Taylor Swift al tomar el escenario para abrir la entrega número 58 de los prestigiosos premios. La intérprete, quien debutó un nuevo corte de cabello, cantó su nuevo tema Out of the Woods, el cual forma parte de su aclamado álbum. Aunque se esperaba un gran espectáculo, la cantante optó por una presentación simple que no duró más de cuatro minutos.
Después de su gran interpretación, la cantante de 26 años tomó asianto al lado de su mejor amiga Selena Gómez, con quien caminó la alfombra roja y celebró su primer premio en la categoría al "Mejor video" por su producción audiovisual Bad Blood. A través de las redes sociales, Swift publicó el momento en el que recibió la gran noticia mientras se estaba maquillando junto a su mejor amiga.
"Acabamos de ganar un Grammy por Bad Blood y NO estamos bien" publicó Swift.
La intérprete lideró la lista de nominados junto a Kendrick Lamar, con 11 nominaciones. Además de "Mejor video", Taylor también se llevó "Mejor álbum pop" por 1989.
Revive la presentación de Swift y dinos ¿qué te pareció la presentación de Swift en los Grammys?