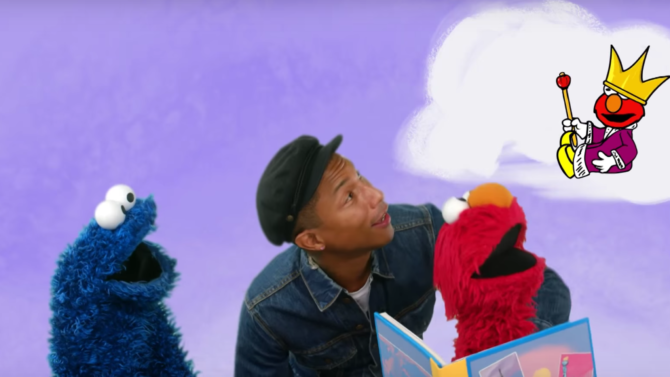 Pharrell Williams visitó Sesame Street para enseñarles a Cookie Monster y a Elmo el fantástico poder de la lectura.
"Puedes ir a cualquier lugar sin salir de tu silla a través de la lectura de un libro/ Puedes ser cualquier cosa, un pirata, un rey / Solo agarra un libro", dice el tema "B is for Book".
Williams, de 43 años, canta sobre las maravillas de la lectura y el poder de la imaginación mientras Cookie Monster y Elmo disfrutan asombrados de todo lo que pueden conseguir con un libro en mano.
La participación del ganador de un premio Grammy es uno de los grandes momentos literarios del programa infantil que recientemente hizo un sketch de comedia de Games of Thrones llamado "Game of Chairs" así como Les Mousserables, en el que Cookie Monster hacía el papel de Jean Bon-Bon. 
Esta temporada de Sesame Street, Gwen Stefani apareció para cantar "Be a Good Friend" mientras que Nick Jonas cantó "Check That Shape" para identificar pentágonos y octágonos.
VER TAMBIÉN Nick Jonas te enseña a llamar a las cosas por su nombre en 'Sesame Street' [VIDEO]
Se espera que Usher también haga una visita el programa en esta temporada.