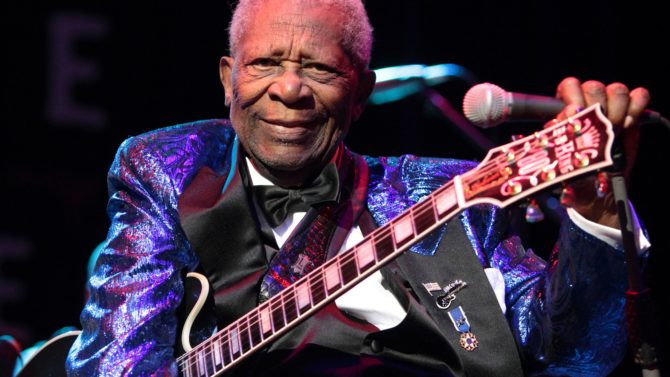 El próximo 1 de septiembre la Grammy Foundation y el Grammy Museum rendirán tributo al 15 veces ganador del premio Grammy, B.B. King, en el evento 'Icon: The Life and Legacy of B.B. King' que celebrará su vida y obra.
VER TAMBIÉN Marc Anthony será reconocido como Persona del Año 2016 en los Latin Grammy
El guitarrista, quien falleció el 14 de mayo de 2015 a los 89 años, será honrado en una fiesta musical amenizada por artistas influenciados por King como Keb' Mo, Derek Trucks, y Jimmie Vaughan, Slash y Susan Tedeschi, Joe Bonamassa y Kenny Wayne Shepherd, así como el guitarrist de blues Joe Louis Walker.
Ampliamente considerado como el Rey del Blues, la destreza musical de B.B.King abarca décadas y será por siempre recordado por éxitos como "3 O' Clock Blues", "You Don't Know Me" y "The Thrill Is Gone".
King también fue honrado en la ceremonia de los Grammy 2016 celebrados en febrero pasado y entre otros reconocimientos ha sido distinguido con el honor de formar parte del Blues Foundation Hall Of Fame, en 1980, y el Rock And Roll Hall Of Fame, en 1987.
La velada 'Icon: The Life and Legacy of B.B. King' será animada por el vicepresidente de la Fundación Grammy, Scott Goldman y todos los fondos recaudados serán destinados a beneficio de la fundación y museo Grammy.