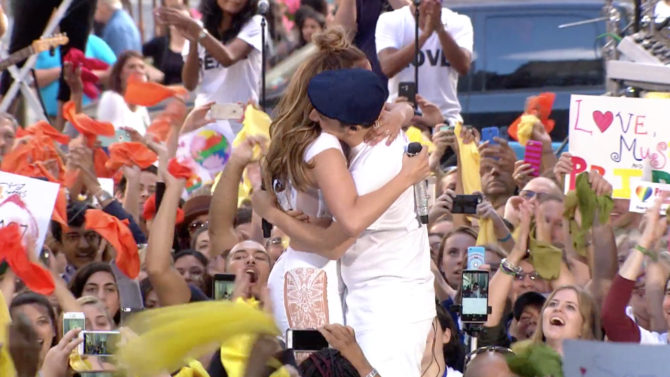 Rodeados por un gran número de personas que incluyó a varios sobrevivientes de la masacre de Orlando y a familiares de algunas de las víctimas, Jennifer López y Lin-Manuel Miranda cantaron por primera vez en vivo su canción "Love Make the World Go Round" en la ciudad de Nueva York, durante la emisión del programa matutino Today.
Vistiendo un top y un pantalón de color blanco, la Diva del Bronx cantó en un escenario al aire libre que  contaba en el piso con una pantalla que transmitió coloridas imágenes de corazones y animaciones del planeta tierra, mientras el público alrededor portaba pañuelos de colores y carteles recordando a las víctimas del tiroteo ocurrido en la discoteca Pulse el pasado 12 de junio. Poco después se unió a ella el creador de Hamilton, quien también vistió de blanco para la presentación, que culminó con un abrazo entre los dos artistas de ascendencia puertorriqueña.
VER TAMBIÉN Jennifer López y Lin-Manuel Miranda graban video de "Love Make the World Go Round" [FOTO]
Luego del show los intérpretes del tema concedieron una entrevista en la que JLo explicó cómo fue concebido el sencillo en honor a las víctimas de la tragedia. "Tenía esta canción llamada 'Love Make the World Go Round' desde hace como 8 meses", explicó la cantante, "cuando pasó lo de Orlando la escuché de una manera diferente y pensé 'el mundo necesita esto en este momento'. Decidí que necesitaba algunos cambios y quería incluir a alguien en el puente y surgieron todos estos nombres y luego el nombre de Lin fue mencionado y dije, ese es".
VER TAMBIÉN JLo, Selena Gómez, Juanes y otros artistas cantan 'Hands', en honor a víctimas de masacre en Orlando [VIDEO]
Mira la presentación completa ingresando aquí.