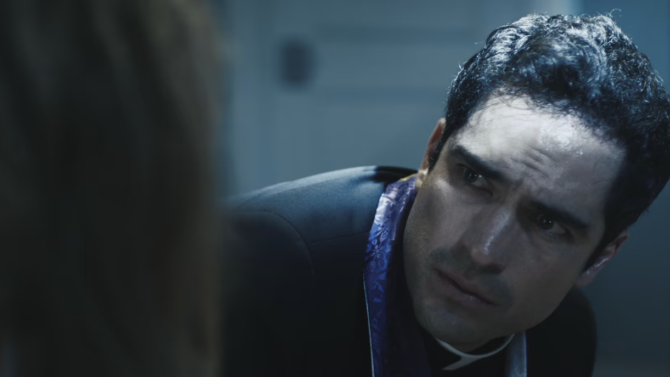 Las cosas se están poniendo más y más tenebrosas en The Exorcist. Variety Latino les trae un clip exclusivo antes del episodio 5, titulado "Chapter Five: Through My Most Grievous Fault".
En el video se ve a Casey Rance (Hannah Kasulka) poseída, mientras el padre Tomás (Alfonso Herrera) no puede creer lo que escucha. El demonio sabe que lastima a Tomás si le habla como su abuela.
"Mijo, por qué haces esto. Mírame mijo, yo nunca quise esto para ti. Se vive una sola vez, vive tu vida", le dice Casey en español. "Esto no es verdad, esto no es verdad, ¡cállate! El demonio le responde, ¿por qué te castigas?
En la escena, el padre Marcus (Ben Daniels) trata de que su colega no se concentre en el demonio. "No lo mires, no dejes que se te meta en la cabeza". Mientras Tomas se frustra por escuchar la voz de su difunta abuela, le echa agua bendita y reza para que el espíritu maligno abandone a la joven.
The Exorcist se transmite este viernes 21 de octubre a las 9:00 pm ET por Fox.