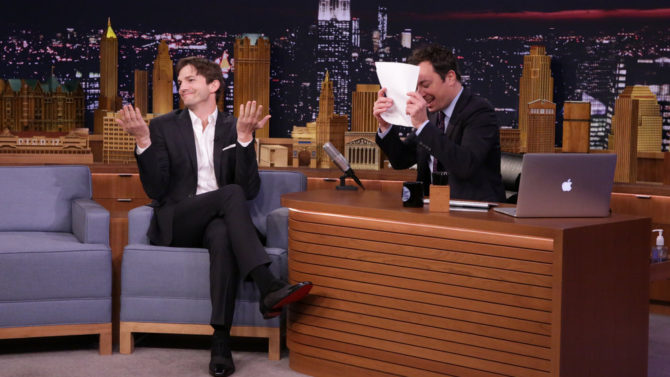 Ashton Kutcher compartió sus experiencias de paternidad con Jimmy Fallon, en The Tonight Show. El actor de 38 años y su esposa Mila Kunis están a la espera de su segundo hijo, que nacerá a finales de noviembre. La pareja tiene una niña de dos años, Wyatt Isabelle que pronto dejará de ser la consentida de la casa.
VER TAMBIEN: Ashton Kutcher revela sexo del bebé que espera con Mila Kunis
Kutcher le preguntó a Fallon si tenía algún tip que darle, pues el presentador tiene dos hijas, pero Fallon dijo que mejor se llevara la sopresa por sí solo. Ashton confesó que durante el primer embarazo de Kunis se había convertido en una especie de doula, leyendo todo tipo de libros, pero en esta ocasión no ha hecho nada para prepararse.
Ambos comentaron lo complicado que es abrir los regalos de hoy en día, "se necesita una caja de herramientas", dijo el actor, y afirmó que cuando estaba pequeño, se montaba en la parte trasera de una camioneta sin ningún temor, y así se divertía, sin embargo, mientras estaba haciendo la demostración de sus saltos en la pick up, se le rompió la costura del pantalón.
El actor de That 70's Show está promocionando la nueva temporada de su show en Netflix, The Ranch, que estrena el 7 de octubre.