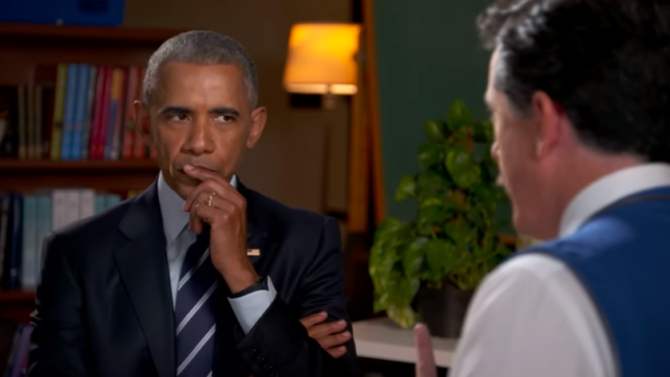 El presidente Barack Obama quedará desempleado pronto, y Stephen Colbert decidió ayudarlo con el administrador de su oficina que le daría algunos consejos sobre cómo desenvolverse en una entrevista de trabajo, durante The Late Show with Stephen Colbert.
Randy (Colbert), el "office manager" le preguntó a Obama por qué no había tenido ningún ascenso en los últimos ocho años. El presidente le respondió que no había mucho espacio para crecimiento en su último trabajo.  También hablaron sobre las razones por las que no continuaría en la empresa, por la que el mandatario dijo que sería inconstitucional, pero Randy sugirió no usar esa respuesta, pues los entrevistadores podrían percibir como si un delito.
El jefe de estado habló de sus logros, como el mejoramiento de las relaciones con Cuba, el Obamacare, que ayudó a 10 millones de estadounidenses a conseguir cobertura de salud, y su premio Nobel de la paz.
Sin embargo, el momento clave del sketch fue cuando Randy lo puso a comparar entre dos alimentos como si fueran los candidatos presidenciales. Uno es una barra de fibra que viajó a más de 100 países, y el otro es una "mandarina, cubierta con pelo de golden retriever, y llena de vil, que no dejaría a solas con la mujer que quiero", según Colbert.