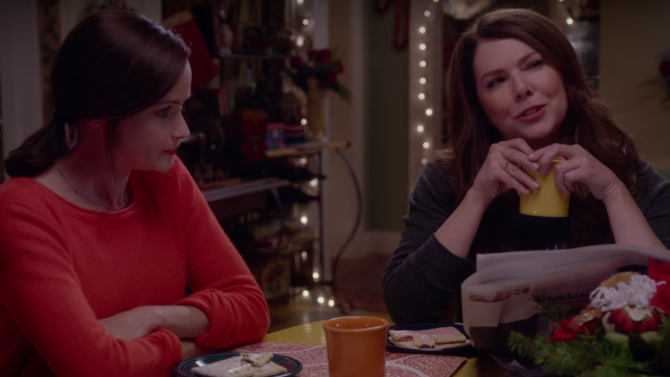 OH MY GOD! El primer teaser de Gilmore Girls: A Year in the Life fue revelado este martes. Además, llegó con la fecha de estreno de la serie que formará parte del contenido original de Netflix.
25 de noviembre es la fecha que se escogió para estrenar la continuación de la serie Gilmore Girl, la cual regresa con su elenco original: Lauren Graham y Alexis Bledel.
En el teaser, que deja claro que muy poco ha cambiado en el espacio que rodea a Lorelai Gilmore y su hija Rory, se puede ver a estar conversando sobre la actual la cultura popular. Mientras comen galletas y leen el periódico la madre cuestiona si Amy Schumer quisiera ser su amiga o si John Oliver la encontraría atractiva.
Aunque tenemos teaser y fecha, aun nos faltan detalles. Se desconoce si todos los episodios estarán disponibles en Netflix el mismo día  el mismo día, o si serán cuatro entregas. Esto ya que Gilmore Girls: A Year in the Life estará compuesta por cuatro partes, una por cada temporada del año.
Además de las dos protagonistas, regresarán al elenco Melissa McCarthy, (Sookie St. James), Scott Patterson (Luke Danes) y Sean Gunn (Kirk Gleason), entre otros.
Con siete temporadas, Gilmore Girls se convirtió en una de las series más populares de la cadena Warner Channel entre 2000 y 2007.