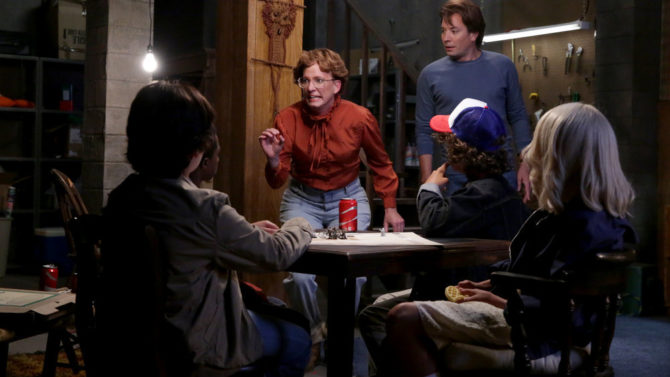 Jimmy Fallon mostró una de las escenas "nunca antes vistas" de la serie de Netflix "Stranger Things" durante su programa. En el sketch aparece el personaje de Barb, junto a los protagonistas Gataen Matarazzo, Finn Wolfhard, Caleb McLaughlin y Millie Bobby Brown. Aunque la actriz Shanon Purser no interpretó su papel de Barb, la parodia les quedó muy original.
Fallon hizo el rol de Steve Harrington, quien llega al sótano donde los chicos están jugando 'Dungeons and Dragons'.  En seguida baja Barb, histérica porque la dejaron en el mundo paralelo (upside down).
"Parecía que podías cuidarte sola", le dijo Dustin (Matarazzo). Mientras Lucas comentó que estaba muy oscuro, y nadie la pudo encontrar".
Barb entonces respondió irónica, que, sí era difícil identificarla porque "no tengo un cabello rojo y brillante como Ronald McDonald, gafas de abuelita y una blusa de bibliotecaria".
Los chicos le preguntaron si volvería para la segunda temporada, pero ella respondió, en su momento de venganza que iba a tener su propio show en Netflix: "Orange is The New Bitch".