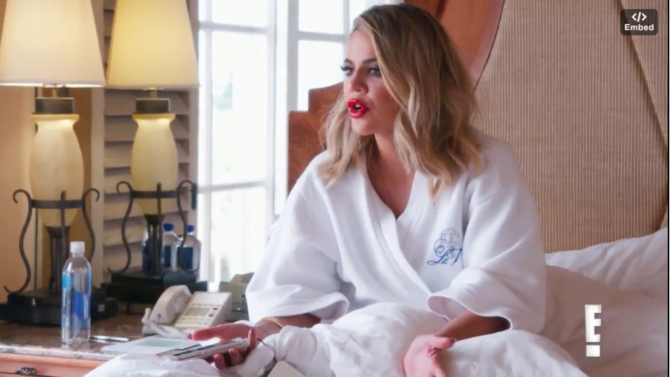 En el próximo episodio de Keeping Up With the Kardashians, Khloé Kardashian cuestionará la actitud de su hermano menor Rob, que desapareció por cinco días dejando a su prometida embarazada, Blac Chyna, para ir a Miami.
VER TAMBIÉN Investigan a Rob Kardashian por presuntamente amenazar a un hombre
En las imágenes que la cadena E! transmitirá el domingo 30 de octubre, se ve a Khloé manteniendo una conversación con sus hermanas Kim y Kourtney Kardashian, a las que critica por actuar como si Rob no hubiese hecho nada malo.
"Si este fuera un hombre con el que estaríamos nosotras, estaríamos muy enojadas", dice Khloé. "No le ha hablado en días", agregó sobre el comportamiento de su hermano con Chyna, a lo que Kourtney pregunta: "¿Por qué?"
"¡Me importa un carajo" Tienes que saber cómo está", le responde la también empresaria.
"No me importa si es nuestro hermano, los hechos son hechos, es una locura cómo se está comportando. ¡Es muy jo****!", agrega.
Rob Kardashian está esperando su primer hijo junto a Blac Chyna y es una niña. La nueva sobrina de las hermanas Kardashian será la sexta nieta de Kris Jenner, quien ya tiene a Mason, Penelope y Reign Disick, hijos Kourtney, y North y Saint West, de Kim.