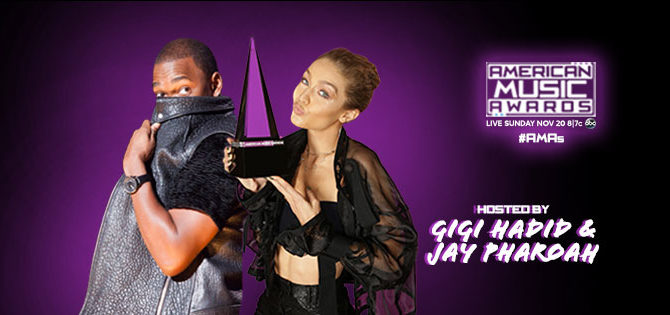 Este domingo 20 de noviembre se llevarán a cabo los American Music Awards en el Microsoft Theater, en Los Ángeles, California, y los podrás ver a partir de las 8:00 de la noche por la cadena ABC.
Pero, si no te encuentras frente al televisor y no te quieres perder el evento es posible verlo en Internet. Lo único que debes hacer es ingresar a la página abc.go.
También se indicó que a partir de las 6:00 de la tarde ET / 3:00 de la tarde PT, se estará transmitiendo la alfombra roja en un live stream. Para verlo debes ingresar a la página en Internet de los American Music Awards.
Pero, si lo que te interesa es ver presentaciones en vivo previo al evento entonces debes ir a Periscope. Lo único que debes hacer es buscar en la aplicación la cuenta Coke Music.
VER TAMBIÉN Quiz: ¿Quién ganará los American Music Awards 2016?
Este año la modelo Gigi Hadid y el actor y comediante Jay Pharoah serán los conductores de la ceremonia de premiación. Mientras que Heidi Klum, Karlie Kloss, Zoe Saldana, Teyana Taylor, Steven Yeun, Robert Downey Jr., Taraji P. Henson, Ciara, Julianne Hough, Matt Bomer y Nina Dobrev estarán presentando a los ganadores en las diferentes categorías.
Las nominaciones las encabeza Drake, quien está haciendo historia al convertirse en el primer cantante en obtener 13. Rihanna, por su parte, obtuvo siete nominaciones, mientras que Adele y Justin Bieber recibieron cinco cada uno.
Beyoncé y The Chainsmokers, están empatados con cuatro nominaciones. Bryson Tiller, Twenty One Pilots, Carrie Underwood, Fetty Wap y The Weekend recibieron tres. La lista completa de nominados la puedes ver haciendo clic aquí.
 J Balvin, Enrique Iglesias y Nicky Jam son los nominados en la categoría de Artista Latino Favorito, mientras que Justin Bieber, Selena Gómez, Ariana Grande, Rihanna y Carrie Underwood se disputan la categoría de Artista del Año.
La premiación contará con presentaciones en vivo de James Bay, Lady Gaga, Green Day, John Legend, Bruno Mars, Shawn Mendes, Twenty One Pilots, The Weeknd, Nail Horan y Fifth Harmony.
Sting, quien recibirá el premio honorífico "The American Music Award of Merit", también estará cantando durante la ceremonia.