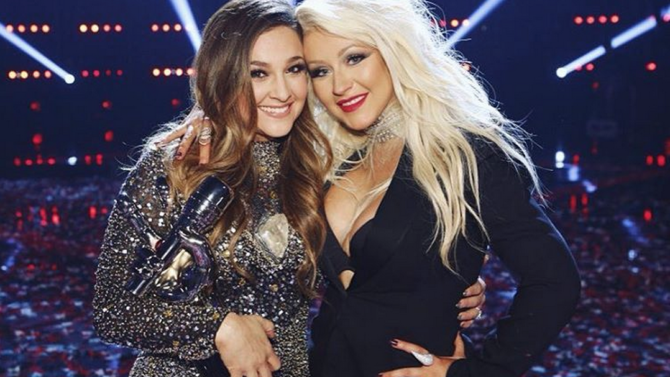 ¡La décima temporada de The Voice ya tiene ganadora!
Se trata de la bloguera y exactriz infantil Alisan Porter, de Team Christina, quien quedó en el primer lugar de esta popular competencia de canto, convirtiendo a Christina Aguilera en la primera coach femenina en ganar el reality.
"¡Chicos, gané The Voice!" escribió Alisan en Twitter. "Gracias desde lo más profundo de mi corazón a todos los que me apoyaron y votaron por mí".
Por su parte, su orgullosa coach tuiteó: "¡Súper orgullosa de Alisan Porter! Esta noche, todas las mujeres ganamos. Gracias a todos los que votaron por ella".
Durante la gran final, Alisan enamoró tanto al público como a los jueces al interpretar el éxito "Somewhere", de Barbra Streisand.
Alisan acaparó los titulares desde su primera aparición en las audiciones de The Voice, y no solo por su voz, sino también por ser una exestrella infantil, quien, en 1991, protagonizó la película Curly Sue.
La cantante de 34 años interpretó el tema "Blue Bayou" durante las audiciones a ciegas del programa, logrando que los cuatro jueces de la competencia se voltearan ante su increíble interpretación. Fue tal la impresión que Porter causó, que Adam Levine y Christina Aguilera se levantaron de sus sillas y fueron hasta el escenario a felicitarla. Al final, ella escogió ser parte de Team Christina, y el resto es historia.
Aquí algunos GIFs del momento es que se anunció que Alisan ganó la competencia:
Christina expresó su amor y admiración por Alisan durante una conferencia de prensa justo después del show:
¡Felicidades a Alisan y a Christina!