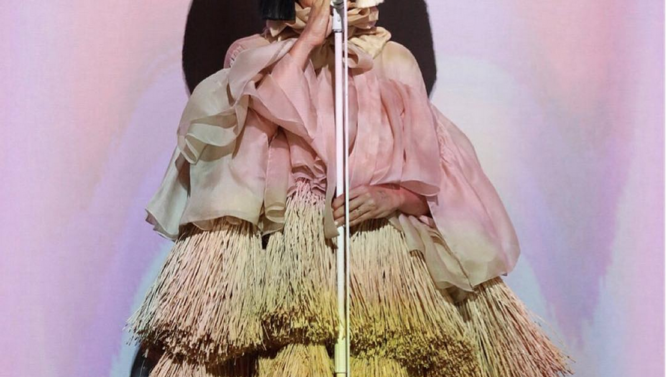 Como es costumbre cada vez que sube a un escenario, Sia se robó el show durante la gran final de la décima temporada de The Voice, este martes 24 de mayo.
La cantante australiana apareció en el escenario de dicha competencia de canto para interpretar su popular tema "Cheap Thrills", acompañada por la majestuosa coreografía de la estrella de la serie de Lifetime Dance Moms, Maddie Ziegler. Sia impactó con un voluminoso traje con volantes y lo que parecían pompones o escobas, confeccionado por el diseñador danés Nicholas Nybro. Y no podía faltar su peluca bicolor, que lució con un enorme lazo.
Pero Sia no fue la única invitada especial de la noche. La banda de música country Little Big Town abrió el show con su nuevo tema, "One of Those Days". Blake Shelton también tomó el escenario para interpretar su tema "She's Got a Way with Words", que se desprende de su más reciente álbum, If I'm Honest. Uno de nuestros favoritos, Zayn Malik, hizo suspirar a más de una con su tema "Like I Would", mientras que el ex-coach CeeLo Green regresó a este escenario para cantar su tema "Crazy" a dúo con la finalista Hannah Huston. 
Y uno de los momentos más esperados de la noche llegó cuando dos de las mejores voces de , Christina Aguilera y Ariana Grande, cantaron a dúo el tema "Dangerous Woman" de Grande.
Al final, Alisan Porter, de Team Christina, fue elegida ganadora de esta décima temporada, convirtiendo a Christina en la primera coach femenina que gana The Voice. Adam Wakefield, de Team Blake, quedó en segundo lugar.
¡Hasta la próxima temprada!