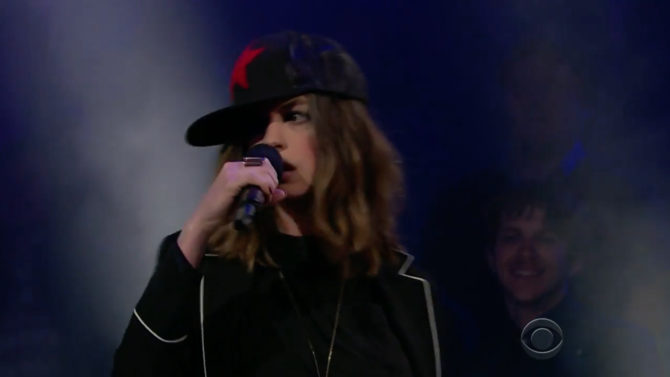 Anne Hathaway no solo es talentosa en cuanto a la actuación se refiere, sino que también es muy buena rapeando, como lo demostró en el programa The Late Late Show, donde dejó ver sus habilidades para el rap en el divertido segmento "Drop the Mic".
La actriz de Alice Through the Looking Glass y James Corden se enfrentaron en una batalla de rap en un set similar a un ring de boxeo en el que entre verso y verso se "atacaron" mutuamente. Corden, quien inició el enfrentamiento, indicó en su primer rap que Hathaway tenía pechos planos y que a la única Cat Woman que reconocía era a Halle Berry.
VER TAMBIÉN James Corden ayuda a Sharon Stone a conseguir una cita [VIDEO]
Por su parte Hathaway, quien llegó al escenario vistiendo una gorra y una bata de boxeador, no se dejó intimidar y en su turno en el micrófono le dijo al animador que debería pensar en retirarse de su trabajo, a diferencia de lo que muchos recomiendan. "Te busqué en imdb y no decía nada bueno", señaló la actriz ante la mirada consternada del presentador británico.
Pero ahí no pararon los ataques, entre rap y rap,  el conductor aseguró que Hathaway tenía un terrible acento británico y mencionó su criticada conducción de los premios Oscar, mientras ella le respondió que era hora que se buscara trajes que le quedaran bien y que era la peor importación de Gran Bretaña desde la viruela.
VER TAMBIÉN Anne Hathaway elimina meme de las Kardashian, luego de generar controversia
Precisamente fue Anne quien tuvo la última palabra en esta intensa batalla, indicando en su verso final que seguía de pie a pesar de los ataques. "Te prometo que Anne Hathaway no se quedará en el piso", aseguró, llevándose todos los aplausos de la audiencia.