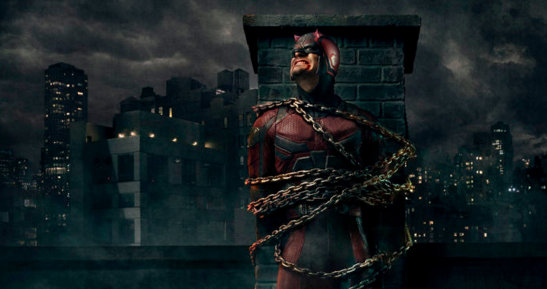 Parece ser que la segunda temporada de Daredevil llegará con más fuerza que nunca, o al menos eso es lo que se puede concluir a través de los pequeños vistazos que Netflix ha revelado.
Primero nos encontramos con un nuevo póster que deja claro que el personaje de Dan Defensor está en apuros. Aparece encadenado y con un rostro que demuestra la dificultad que representan las cadenas.
Luego, y acompañado de la frase "se borrarán las líneas", nos llega un video de quince segundos que presenta a una Karen pensativa, acompañada de libros y una calavera. El personaje, interpretado por Deborah Ann Woll, es la secretaria de la firma de abogados del protagonista y uno de sus intereses amorosos.
La producción también le regaló a los fanáticos otro detalle que involucra a Foggy, el mejor amigo de Daredevil. Junto a la frase "la amistad será puesta a prueba" Foggy, interpretado por Elden Henson, aparece algo confundido.
Esta nueva temporada de la serie protagonizada por Charlie Cox está rodeada de grandes expectativas, y promete la llegada de nuevos personajes como, por ejemplo, The Punisher y Elektra Natchios.
Lo que se sabe de  la trama hasta los momentos es que The Punisher (Jon Bernthal) es un hombre con de sed de venganza que llega a alborotar la vida del protagonista. Por otro lado, la actriz Élodie Yung será la encargada de darle vida al rol de Elektra, uno de los personajes con más presencia en los cómics de Daredevil.
La segunda temporada de esta producción de Marvel llegará a Netflix el 18 de marzo.