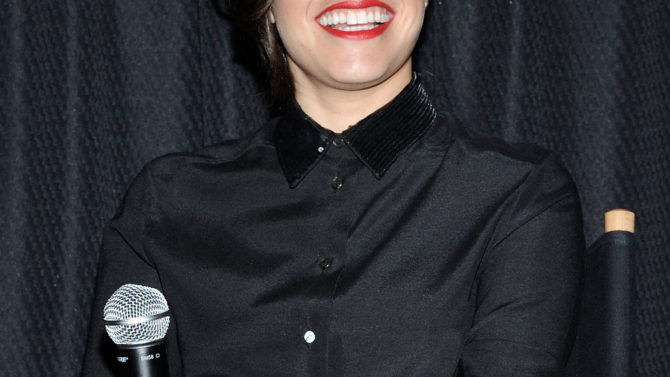 America Ferrera makes her grand return to TV.
This time the Emmy and Golden Globe winner will host of a new documentary series called "Panorámica," a joint venture between Noticias Univision, Univision's award-winning news division, and Pivot, Participant Media's network aimed at millenials who are passionate about taking action on the issues they care about.
"Panorámica" consists of eight documentary films co-produced or acquired by Univision, and Pivot, all of which will air on Univision or UniMás in Spanish, and will be simulcast in English (or with English subtitles) by Pivot. In May 2014, both networks premiered the first of these films, "Cesar's Last Fast," about the 36-day hunger strike of Mexican American activist Cesar Chavez in 1988. Through this heroic act, Chavez became an icon of the struggle for farm workers' civil rights.
Up next, on August 23 at 8 pm ET / 7 c, UniMás will air the second title in the series, Mark Grieco's "Marmato," which premiered at the 2014 Sundance Film Festival to critical acclaim. Filmed over nearly six years, the film documents the arduous struggle of a small mining town in Colombia, whose 8,000 inhabitants face the powerful Canadian company that wants to take over 20 billion dollars in gold that lie beneath their houses.
"I'm excited and inspired by Panoramica's mission to bring these important films to a wider audience," says Ferrera.
Since her turn in HBO's "Real Women Have Curves" in 2002, to her unforgettable "Ugly Betty" from 2006 to 2010, to her most recent projects on the big screen, the 30-year-old actress of Honduran descent has always gravitated toward roles that give a voice to Latinos in the U.S.
Earlier this year we saw her as Helen Chavez, Cesar Chavez's wife, in the biopic directed by Diego Luna. This summer she voiced Astrid in Dreamworks' animated picture, "How to Train Your Dragon 2."
In "Panorámica," Ferrera will give context to these compelling stories that explore issues of particular interest to the Hispanic community and will invite viewers to be part of the conversation.
"We are delighted to have America hosting the 'Panoramica' series," says Isaac Lee, president of Univision News and CEO of Fusion. "Apart from being a distinguished actress, she has become an admired role model for young Latinos across the U.S. through her enormously successful career in Hollywood, which includes a major role in the recently released biopic 'Cesar Chavez.' We know that she will connect with our viewers and create the perfect lead-in for the outstanding films that will follow her introduction."
In 2015, Pivot and Univision will broadcast "#Single: Girl Behind the Camera," an autobiographical film by Paula Schargorodsky. Developed over the course of ten years, it's an intimate and humorous look at a generation of single women that raises questions about cultural traditions and family expectations.