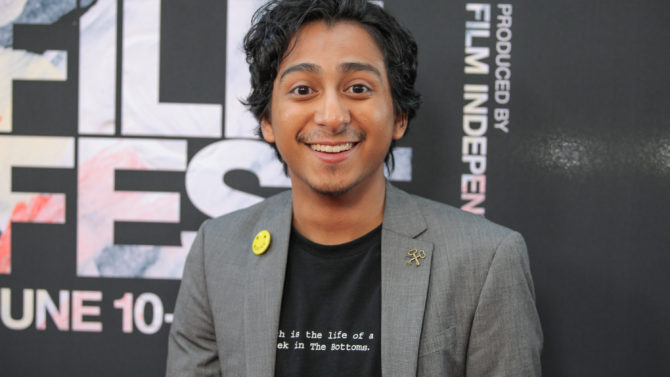 Most people toil away in independent cinema for years, maybe even decades, before catching a big break through some sort of cosmic alignment and starring in an Oscar-winning movie.
Not Tony Revolori. The 19-year-old Californian with Guatemalan roots, who stars in the buzzy, nerds-in-the-hood dramedy Dope (out June 19), is doing it all backwards.
After a string of small television parts, he was cast as Zero Moustafa, the orphaned lobby boy and fiercely loyal protégé of eccentric concierge Gustave H (Ralph Fiennes) in Wes Anderson's dazzling 2014 murder mystery, The Grand Budapest Hotel. As the story goes, Anderson searched far and wide for the right actor to play Zero, who in the film is supposed to be a political refugee from a fictional Middle Eastern nation. The A-list director looked at actors of Israeli and Lebanese descent, but eventually landed in Los Angeles, where he auditioned Tony and – get this – Tony's own brother, Mario. But in case you're wondering – all is good between the two hermanos. In fact, Mario visited his younger brother on the set of Dope, along with Tony's mom. (The acting gene actually runs in Tony's family. His father was an actor, too.)
"They love that I'm an actor and they're so happy for me and proud that it's happening and that I'm getting a chance to do what I love," says Tony of his tight-knit family. "I'm so happy for that."
Any why wouldn't they be? Starring in one of the most hyped indie films of 2015, not to mention one that sparked a bidding war at Sundance, is something to be immensely proud of.
As Jib, one of three geeks (along with Shameik Moore and Kiersey Clemons) from a gang-ridden neighborhood in Inglewood, Calif. who are obsessed with '90s hip-hop, aspire to college, and play in a hip-hop/punk band, Tony brings to life a relatable character with some of the most memorable lines in the film – some of which were improvised. Things get simultaneously more ominous and hilarious after a birthday party thrown by the local cool kid/drug dealer (played by the rapper A$AP Rocky).
Besides being a unique story with a wonderful script (penned by director Rick Famuyiwa), it's got a dream, multi-cultural cast, with fresh faces like Zoe Kravitz, Chanel Iman, Quincy Brown, Tyga, Kap G, and Blake Anderson, who also star. Then there's the team of superstar backers/producers, including Pharrell Williams, Forest Whitaker, and Sean 'Diddy' Combs. And, last, but not least, there's the music, handled expertly by Pharrell, who also contributes four original songs to the soundtrack.
If you're going to make a grand entrance into Hollywood, there's really no better way to do it than Tony's. It should come as no surprise that the young thesp, born Anthony Quinonez, greatly admires another talented actor with Guatemalan roots, Oscar Isaac, who is defying stereotypes and playing all types of meaty roles in movies big and small.
"Tony is fully aware of the challenges he faces to convince Hollywood that Latinos come in all colors, so I think that's why the role meant a lot to him, too," says Dope co-producer Mimi Valdés, herself a Latina working hard behind-the-scenes to bring interesting stories to life as chief creative officer of Pharrell Williams' i am OTHER company. She points out that Dope was the first time that Tony was cast as a Latino in a feature film. This year, aside from Dope, Tony is also starring in the 2015 Bollywood film, Umrika — further proof that he can play any character.
"I'm excited for Tony's future," adds Valdés. "He's so dedicated to his craft, incredibly focused and wise beyond his years. I have no doubt he's going to have a really successful career in Hollywood. He has great taste, and will undoubtedly continue to play interesting, complex characters for years to come."
In the days leading up to Dope's New York premiere, Variety Latino chatted with Tony about his aspirations, his Guatemalan family, working with Pharrell, and style.
How cool has it been to be a part of this movie?
I think it's fantastic. We knew it was going to be a good project, but you just never know [what's going to happen] but then after Sundance people just loved, loved, loved the project, which I thought was surprisingly awesome and it's become the thing that it's become now. I'm really, really happy with how it all turned out.
Had you ever read a script like this before?
I read the script for The Grand Budapest Hotel and that's the most amazing script I've ever read. I do have to be honest here. So I have read something as special, but story-wise, I'd never seen a story like this and I thought that's what was so amazing about this movie.
It's crazy that a Wes Anderson film was your first movie and now you're in one of the most buzzed about indie films of the year. What do you hope your career will look like in Hollywood, long-term?
Most people come from doing films like this, these small independents, and then get the Oscar [movies]. I went kind of backwards and I'm just so fortunate to be able to do both. I'm willing to do pretty much any type of film, as long as I feel connected to the character and I love the script or story.
What are some of your favorite aspects of this character and this group of friends?
With Jib what I love so much is that he was a normal guy, there's nothing really special about him, he's just there. But I think that's what's so fantastic because that's what makes him the most relatable out of any of the characters. He's just "the friend." There's more people who are just the friend to someone amazing or they all feel like they're just the friend to someone amazing. He could be played as this corny character, and I had to try very hard to make sure that that didn't happen. I wanted people to still love him and take him seriously as opposed to just thinking of him as a joke.
You have some of the funniest lines, but I hear you also did some fun ad libbing as well.
I did have a lot of cool lines, a lot of which I improvised on set. Not getting a writer credit because I heard that supposedly it wasn't enough, oh well, it's ok [laughs].
There's a line in the movie where I say "I'm 14% African" according to ancestry.com — that was a line I actually improvised during the audition, and Rick [the director] said 'you have to keep that for the script.' It makes me happy that I got to come up with something that they love. There's another part when I'm screaming at Shameik's character after we almost got caught and I say, 'I need to go to college and help my mom out!' That was all improvised by me on the day. Just the fact that I got the chance to build the character and make him more whole was amazing. I appreciate and love that Rick did that.
I'm guessing on The Grand Budapest Hotel there was no improvising.
No, no…there was no wiggle room [laughs].
The band in the movie, Awreeoh, has a few songs on the soundtrack. What was it like working with Pharrell on the music?
It was amazing! He and I both had this geek-out moment 'cause he is a huge fan of the film I'm in [Grand Budapest Hotel] and I am a huge fan of him in general 'cause he's awesome and so the first time I met him he's just talking to me and he's just geeking out to me and I was like, 'why are you doing that? You're the one who's amazing, stop!!' He is just an awesome, normal dude, but also a truly certified, generational genius.
Is music something you want to continue?
I actually do play bass guitar so yeah, I mean one day, who knows? We'll see what happens, if it happens, but one day I'm really hoping for it.
Tell me about your family. Do you ever get to go back to Guatemala?
Sadly, Guatemala is very, very dangerous so I have not been back in a while but I love my family, I talk to them constantly.
What do they think of the movie?
My mom and my brother have seen Dope. The rest of my family has only seen The Grand Budapest Hotel, which is the only other film I'm in — at the moment. They love it, they love that I'm an actor and they're so happy for me and proud that it's happening and that I'm getting a chance to do what I love. I'm so happy for that.
Were there expectations to pursue another career, something more traditional?
No one had a problem with me being an actor. My dad was an actor before me, but a not-so-good one. He's like one of those people who can't do, so they teach. He taught my brother and I how to do it and there was no resistance. We've been doing it for a long time and that's what I love.
If you could do anything else what would you do?
I'd be a stripper [laughs].
Nice! So your next film will be Magic Mike 3. Who inspires you as an actor?
Richard Harris is my favorite actor of all time. I love Dustin Hoffman. Oscar Isaac is absolutely my favorite actor right now.
You seem to have great style, too! You and Pharrell are both hat aficionados.
As for fashion sense, I have none. I'll be completely honest – this is all people telling me what to do because if it were up to me, I'd be in the same shoes that are ripped and torn that I've worn for a year, jeans that are ripped and torn that I've worn all year, a black shirt with some corny, funny comic or video game or something like that and probably a hat. That would be what I wear to every premiere. But I've learned that that's not ok [laughs].