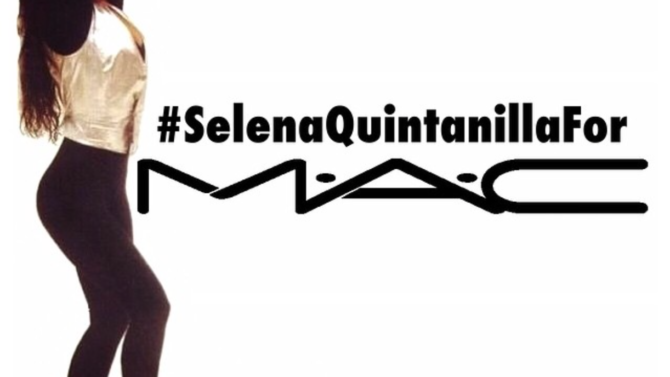 Selena Quintanilla is remembered by her songs, wardrobe, dance moves and her smile that was brighter with her red lipstick. Her luscious red lips became a signature look for the queen of Tejano music and like the trendsetter she was, everyone wanted to sport the red lipstick just like Selena did.
Twenty years after her death, José Antonio Figueroa, a Las Vegas based makeup artist, wants Selena's legacy to go beyond her music. He also wants her iconic beauty to receive the recognition it deserves, which is why he started the campaign #SelenaQuintanillaForMAC.
Variety Latino reached out to José about what it would mean to him and the Latino community to have this makeup line become a reality.
How did this idea come about and are you surprised with how much support it has received?
It's always been an idea I've had in the back of my mind. Like, 'Wouldn't it be cool if MAC Cosmetics released a limited edition collection inspired by Selena?' Then one day a few months ago I photoshopped an image I found on Google onto MAC's iconic black lipstick tube with my iPhone and posted it on my Instagram. At the time I didn't think it would go as viral as it has.
A few weeks later, Patty Rodriguez (producer for 'On Air With Ryan Seacrest' and entrepreneur) came across the image and started the Change.org petition. I really owe a lot of this to her. I'm blown away at how much attention this has gotten. It's very surreal to see your name mentioned on websites like Perez Hilton, but it goes to show that Selena is still very relevant today, not just in Latino culture, but in pop culture in general.
What would "Selena Quintanilla for MAC" mean to you as a makeup artist?
Selena is my American Icon. She's my Marilyn Monroe. From a makeup artist's [perception], Selena's look is iconic. How cool would it be to be able to hold a tube of lipstick in Selena's signature red?
What would it mean for the Latino community?
As a first generation Mexican-American, Selena was and is still the American Dream. Speaking [from experience] and doing many Quinceañeras when I used to live in Southern California, getting your makeup done at a MAC counter by a MAC artist for your Quince was just as important as the dress or the stretch limousine. Latina women have grown up on MAC from buying their first studio fix powders to now being one of the largest consumers of cosmetics. Latinas are three times more likely than any other group to spend money on cosmetics. So for this to come to life, which it will, would be that for the first time MAC would be putting out a collection that Latinas could fully identify with.
What was most beautiful about Selena?
Besides those lips? Kylie Jenner eat your heart out! I think beauty and talent aside, she was also humble and kind. She showed how beautiful it is to be Mexican-American and be proud of it.
What's the status of the campaign and do think it will happen?
As of right now I don't know anything more than anyone else does. I do know that MAC has been in talks with the family and I absolutely think this will happen. My abuelita always said, 'You don't get what you don't ask for.' And now more than ever Latinas are demanding their Selena lipsticks! Just keep hash-tagging #SelenaQuintanillaForMAC and sign the petition. In the words of Selena herself, 'We never thought we'd get this far, but we're here.'
As of right now, over 30,000 people have signed the petition.