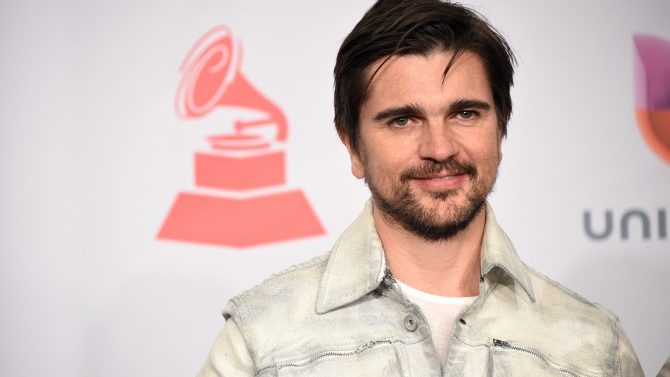 Two-time Grammy and 20-time Latin Grammy award winner, Juanes, will take the stage at the 87th Annual Grammy Awards this Sunday, Feb. 8.
The Colombian superstar who has already conquered the Latin market is ready to perform the first Spanish-language, original Latin song in the last ten years.
"I'm very excited. I can't believe this is going to happen. You know, I've been waiting for this moment for many years and we are very excited now that it's about to come, to happen," Juanes told The Associated Press in an interview at his recording studio in Miami. "We are going to perform a new song called 'Juntos,' or 'Together,' the song that we made for the Disney movie 'McFarland, USA'."
Excited to make his second performance at the Grammys a success, the first was in 2013 and sang an English-Spanish version of Elton John's "Your Song," Juanes adds, "It may be the biggest Latin moment at the Grammys since Jennifer Lopez and Marc Anthony sang "Escapémonos" exactly 10 years ago."Currently nominated in the Best Latin Pop Album category for his most recent chart-topper album, "Loco de Amor," the 42-year-old has already had a successful transition into the English market with performances at the Budweiser Made In America Festival in Los Angeles and writing the theme song for the Golden Globe nominated show, "Jane The Virgin," "Una Flor" and even appearing in an episode.
The acclaimed musician is quickly becoming one of Latin America's most recognized artists in the United States and it was also recently announced that he will be performing at "The Victoria's Secret Swim Special" on Feb. 26th in Puerto Rico alongside Maroon 5.
His recent collaboration in the Disney film "McFarland" was also a great opportunity which will give his voice and talent to soon be heard all over cinemas.
"The inspiration (for the song) comes from the movie itself, the idea that when people work together and when people believe in … (each) other anything can be possible," Juanes stated in the press release for the motion-picture.
With much experience and already a worldwide sensation with Latinos, Juanes taking the stage is more than just seeing someone that our family members would recognize. It means that his music and specifically Latin music is being heard and is making an impact in the English-language community.
The growing entertainment industry is not only accepting more Latinos into its sphere it is also recognizing them for their talents and giving them a chance to grow and expand their knowledge of other types of music. Music is a universal language and Juanes is giving everyone a chance to be heard and like he said, "This may be the greatest Latin moment since 10 years ago."
Don't miss the superstar performing live on Feb. 8 on CBS.